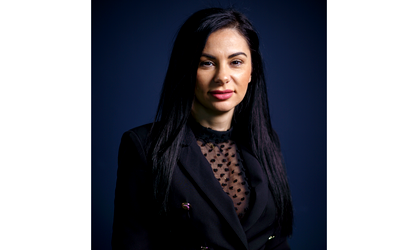 As pioneers in terms of inclusion and diversity policies, Carrefour Romania has one of the most diverse executive teams in Romania, a diversity which is also reflected when looking at the bigger picture, the company's 18.000 employees, Part of the #BRIDGE project, short for Business Review Inclusion, Diversity & Gender Equality, we sat down with Alina Gamauf, HR, Corporate Affairs and CSR – Executive Committee Board Member Carrefour Romania, for an exclusive interview to find out more about how the company managed to achieve such encouraging feats, proving that ambitious D&I policies are indeed an attainable goal.
As pioneers in terms of inclusion and diversity policies among employees, what has been achieved so far in this area?
Carrefour Romania means 18 thousand people, therefore we can say that our business is all about people. Our diverse human component is clearly our biggest asset. Each of us comes into daily contact with colleagues from other departments, with partners, with suppliers, so it is important to feel included, to feel that we have opportunities in our company, regardless of age, gender or other criteria. It is equally important to get in touch with diverse people who give us a new perspective every day. We strongly believe in an open and inclusive organizational culture and this is why we have been focusing for several years on creating opportunities that strengthen the principles of inclusion and diversity.
Among the most important projects that are already part of our diversity and inclusion strategy plan, I should mention the Diversity Charter – an important milestone for any company and C4Mentor – our mentoring program that was presented as a best practice in the Diversity Management in Romanian Organizations report.
Beyond these, we have many other ongoing projects and plans. 2021 is shaping up to be the year in which we intensify our efforts to get involved in initiatives that will help us achieve an even greater positive impact on the Romanian labor market. Thus we are proud to have recently launched three new projects we are very fond of: the Angajez 45+ (Hiring 45+) partnership, the partnership with LEAD Network, plus a new iteration of the Capital Filles mentoring program.
The new partnership with the Hiring 45+ organization helps us support the integration of people over 45 years of age and people with disabilities. These are initiatives that we care about, and whose process we constantly monitor in our teams.
In July 2021 we launched a partnership with the LEAD Network organization and together we focus on promoting gender equality. We want to have as many participants as possible who will constantly support projects aimed at diversity and inclusion and who will encourage women to be the best in their fields.
Together with Lead Network, we are planning to organize personalized round table meetings, mentoring programs and actively promote gender equality. In Carrefour, we can already see the results of our commitment towards this cause: this year we have 10% more women in management positions within the Carrefour teams.
We value each person for their unique perspective and we want to inspire through the stories of Carrefour Romania employees, so we decided to get involved this year in the Capital Filles mentoring program. Within this program, our colleagues with management roles have voluntarily offered to support and guide young students from disadvantaged backgrounds in shaping a personal and professional development plan.
From the point of view of the employer, what do you think are the main difficulties, prejudices or wrong mentalities regarding the social inclusion on the Romanian labor market?
We often quickly judge those around us and suppress their identity. We still hear that women are emotional, which suggests that they may not always make the most rational business decisions or that those of a certain age are slower and unproductive. The good part is that the business environment is dynamically changing. Differences are increasingly recognized, accepted and finally celebrated. The inclusion strategy we have proposed this year addresses this very prejudice. We want to attract people who are compatible with our culture to join our team and make sure they know Carrefour is a workplace where we respect and focus on diversity and inclusion, a place where they are welcome and can fulfill their potential.
We believe that it's never too late for a person to find a new job or fit in a group, as long as the team is attentive to the future colleagues' needs and ready to offer constant support and help.
Two of the most disadvantaged categories on the local labor market are people over 45 years of age and people with disabilities. How does Carrefour address this issue?
The right to work is universal. Work has an important role in our lives: it gives us purpose, it develops us and it helps us make friends and connections. We recognize the need for our involvement in supporting the people over 45 years of age and people with disabilities.
We talk openly to our colleagues about our strategy. Diversity, equity and inclusion are not only the responsibility of management or HR colleagues, but also of every Carrefour employee. We strongly believe that diversity is the key to success and development and we want everyone involved in our story to have a beautiful professional and personal experience.
In this sense, we have launched a series of courses, dedicated workshops and internal communication campaigns to foster a workplace in which all employees feel free to use their full potential, and know that they are valued for their qualities, experience and uniqueness. We want to make sure that every employee knows that they are an essential key for the success of the company.
We are aware of what is happening on the local market in Romania and how much the involvement of employers is needed to support the two categories. That's why together with Angajez 45+, we will actively promote the opportunities within Carrefour to all those who want to join our team.
What are the inclusion projects and objectives to support diversity in the next period?
We are constantly working to raise awareness regarding the importance of diversity and inclusion, both at an individual level, as well as at a team and leadership level. Along with the programs we launched in July, we can proudly mention another important milestone for us – our Diversity and Inclusion Policy, which was recently signed and through which we express our full commitment towards creating an inclusive organizational environment and respect for the dignity and diversity of all people. This makes diversity, equity and inclusion (DE&I) the responsibility of every employee, member of our team.
In addition, we want to be close to our colleagues and get to know their opinions at all times, and this is why we have launched different surveys in order to see how they are reacting to last year's changes, what they consider to be the most suitable ways of working and also what we can improve in order to keep them safe during these times.
We also want to support the next generation of women leaders and encourage the talents who excel in their fields. That's why we developed The School of Leaders – the latest program launched by Carrefour Romania which aims to train tomorrow's leaders and to support women for managerial roles, grouped around a community of ambassadors.
But that's not all! We have many plans and programs for the future that will support the principles and values of Carrefour. Here I can mention the program Women encourage Women – a mentoring program that was launched in July, where 6 teams have the opportunity to share and support each other. At the same time, we continue to digitize the Onboarding Program for new colleagues who choose to be part of the Carrefour team.
#CarrefourWorld is about the power of being #together, where each individual is unique and valued equally.