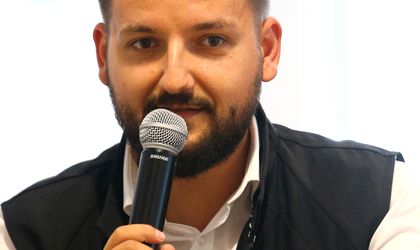 StartUpPath's last panel discussion revolved around four different businesses which started by catering to a niche and ended up building communities around their products and services. The creators of Untold&Neversea, M60, Pegas and TimesNewRoman sat down and shared their insights into the inner working of their businesses, learning from failure and their recipe for building communities.
"People ask: how did you end up doing this? And, after four years of doing this, what we've learned is that one of the most important things when developing something that brings people together … is to do it with your passion," Edy Chereji, head of marketing at Untold&Neversea said. "The small group with which I started were all friends. It connected us to make this special event named Untold. After two years we started Neversea and started working from this: "You can work all your life to try to develop something from your work and never manage something great or you can make something great and share a piece of cake with your friends," he told the audience.
Setting up a 'learning tax'
"Success is a mix of factors," Chereji said. "We travel a lot to see other festivals, other events in this field of entertainment. We try to put on the table things we didn't like at our past events and we try to make it better. We did our first edition of Untold after the concert of Robbie Williams in Bucharest. He reportedly had a very good show – but the fact that that the event went wrong from the point of view of logistics made us think that we should make sure that doesn't happen to us," he explained.
According to Chereji, success doesn't happen overnight and it comes at a price. "We have something called a 'learning tax,' he said, adding that it doesn't imply that any money is wasted. "We are investing in next year's knowledge," he told he audience.
As for the specific challenges that come with organising some of the biggest festivals in Romania, he pointed out to Romania's infrastructure as a major factor. "When you talk to a band that needs to come with trucks full of equipment they need to think well about it. Because they need to travel two days instead of one – as in Romania we don't have highways – and during that time they could fit in two concerts in western Europe," he explained.
For Chereji, the fact that the festivals managed to gather a community of people around them is down to the trust they put in the event. "It was is the trust that our fans give us that keeps us going. We sell in advance up to 50 percent of the tickets even before we announce the lineup. That gives us trust and makes us motivated to get better and better each year," he concluded.