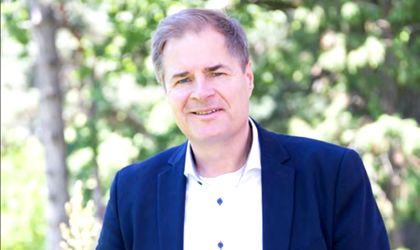 The energy sector's crucial nature was highlighted in 2022, when supply chains were disrupted by the war in Ukraine. The energy crisis that followed showed how fragile the transport infrastructure is and how easily the market can slide into chaos. The good news is that we've managed to survive, albeit at the cost of rising inflation. And there are hopes for a more secure future in terms of energy supply.
By Aurel Constantin
Before the covid pandemic, Europe was on a path to clean and green energy, closing coal-based production units and setting the stage for getting rid of oil and, eventually, natural gas as well. But the war in Ukraine changed these plans. The shortage of gas supply from Russia forced Europe to change the way its industry worked and how energy was produced. Coal-based production sites were reopened and new supply lines from outside Europe were found.
The changes have also led to a lot of new investments in energy projects. For Romania, these will come in new natural gas extraction sites and renewable energy like wind and solar power. The hottest site for natural gas is the offshore exploration in the Black Sea.
"The gas supply was for a time significantly under threat, but the situation changed. It changed from a supply crisis to a price and cost crisis, impacting the competitiveness of the chemical value chain. With energy, gas prices 3-8 times higher than in US the competitiveness is challenged," said Andreas Lier, Managing Director at BASF Romania & Bulgaria.
Last year, Romgaz bought ExxonMobil's 50 percent share in the Neptune Deep project, where it's now in a partnership with OMV Petrom. Romgaz paid EUR 1.06 billion for half of the 88 billion cubic metre deposit of natural gas. The investment needed to tap into this resource is estimated at EUR 4 billion and it is supposed to start in the first half of 2023 in order for production to begin in 2027.
The Black Sea already has an offshore site extracting gas at a rate of about 1 billion cubic metres per year: Black Sea Oil&Gas (BSOG). The main shareholders are Carlyle, the biggest private equity fund in the world, and the European Bank for Reconstruction and Development (EBRD). Both shareholders (with 70 percent of BSOG shares) are looking for an exit and have created data room for the project to share with interested buyers. 11 companies have shown interest in getting access to the site data.
Two of the interested companies are OMV Petrom and Romgaz, both of whom may be trying to carry out an integration with Neptune Deep, as the BSOG project is in shallower water and closer to the shore, and it is already extracting, so there is no need for additional investment. Other interested parties are smaller Romanian companies, state companies from the region (Hungary, Bulgaria), and investment funds.
Demand for renewable energy projects
On the renewable energy side, there's a lot funding from both national and European budgets. Through the PNRR, in the 2022-2026 period, EUR 1.62 billion will be allocated within the Energy component for investments in wind and solar energy production and storage capacity, green hydrogen production capacity, cogeneration, investments in the entire value chain of batteries, cells, and photovoltaic panels, but also in ensuring energy efficiency for the industrial sector.
"The production of green energy must immediately become a priority for local authorities, both for own consumption as well as for sale especially amid the recent significant increase in utility prices. There is a funding scheme through which we encourage local authorities to adopt measures to produce green energy, intended for public services such as hospitals, schools, public lighting, and the supply of heating to the population," said Investments and European Projects minister Marcel Bolos. The official made the statement at the end of last year, when he also said that EUR 500 million had been allocated for energy efficiency to local authorities, who are required to use local budgets to fund the operation of public education and health services.