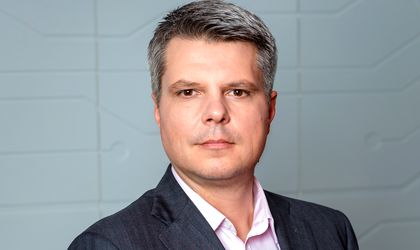 Technology has been a crucial element of the past year and the telecommunications infrastructure can now be seen as a utility service, along with power, water or gas. Business Review talked to Mihnea Radulescu, Business Director at Vodafone Romania, to find out about how technology and digital services are supporting the economy and how telecommunications operators' role has been evolving towards technology providers.
By Aurel Constantin
The importance of technology has been made clear to us over the past year. How does digitalization contribute to economic recovery plans?
One of the things we've learned from the coronavirus pandemic has been how important technology is in our day to day lives. It is easy to imagine how much more difficult this pandemic would have been like 15 years ago, without the connectivity and modern communications tools available today. We can see that the telecommunications sector has supported the economy just as much as energy or any other utilities have over the past year. Hundreds of thousands of people have been working from home, using various levels of technology, which would have been impossible without this IT&C infrastructure. The crisis has opened many eyes, both in the general population as well as among companies and public authorities, to the fact that the country's technological capability has largely contributed to its economic resilience.
The crisis has confirmed what was already known from country reports, like the DESI Index, that technology adoption among Romanian companies is very low, which makes them vulnerable to the economic crisis. Those most exposed are SMEs, i.e. companies with up to 250 employees. The worst situation is that of companies with less than 50 employees, which are the most numerous in Romania. Small businesses account for 52.7% of total value added and 65.8% of employment in Romania. . But Romania ranks 27th among EU countries on the Integration of digital technology by businesses, well below the EU average. The rate of of SMEs selling online, for instance, is 11%, according to DESI Index, while the European average is 18 percent.
A digital economy is very much based on the digitalization of these small companies, including the adoption of minimal technology solutions like a website or an online shop. During this crisis, companies that have done better have been the ones with a higher degree of digitalization, such as restaurants that had more online sales than before. Some firms have acknowledged these realities. It is clear that small companies need help, especially now that it is becoming increasingly difficult for them to survive. We now have a chance to advance digitalization by using European funds, but also that it would be great if absorption processes were simplified.
Another important aspect is understanding the term "digitalization." We talk about it a lot, but different people and institutions have very different interpretations of it. Many companies do not know what they need in terms of digitalization. Some think they just need some equipment, others think they just need a website. At Vodafone, we try to stand by them and explain what a minimum level of business digitalization means and how companies' specific needs can be translated into the right digital solutions that bring real value to their business.
Digitalization is a process of transformation that the entire economy is currently going through. What are some concrete solutions that companies and institutions should adopt?
Understanding digitalization requires education. There are different levels of education one may attain on this matter; some require short-term training, others involve a long-term effort. For the long term, we need the education system to begin addressing these needs. But for the short term, the responsibility falls more to technology providers. There are about 700,000 companies in Romania, and Vodafone has a significant share of the market. We do talk to our customers about digitalization and we help them understand what they need, so we contribute to raising the level of education around this matter. Choosing the best approach to implementation is another story, but there are funds available for digitalization consulting.
Speaking of digital solutions, we should also acknowledge the differences between the private and public sectors.
In the public sector, we should first look at the different subsectors. Apart from a few institutions, it is a well-known fact that most government bodies are very far away from what we might call digitalization. Even though some progress has been made, there is a whole layer that's either missing or is unfit for the needs of both institutions and citizens. I would call that layer ICT (information and communication technology), to include everything that has to do with platforms, servers, data centres, software, cloud, security solutions, and others. Let's take the Health Ministry as an example: it lacks a well-developed, centralised system that could help it communicate with other institutions about the population's health.
How much do we need digitalization in sectors like health and education, for example?
We're talking about telemedicine, 5G connectivity, and remote surgery – these technology solutions are available and could be implemented. However, there are certain pre-requisites that would make these solutions work effectively, like access to the patient's full medical history. This modern database layer needs to be created with strong security and access controls, with accurate data about patients and their medical history. Today, a doctor can examine a patient remotely, by checking his general state, but he knows nothing else about the patient unless they have been his or her doctor for a long time, because the full medical history isn't available These data would provide a full image of the patient's condition. Besides that, some simple equipment can also be connected to the system, such as bracelets that take the patient's pulse and blood pressure and automatically send the information to the doctor.
Furthermore, the patient must be prescribed a treatment. But that cannot be done without all their medical records, because the doctor cannot prescribe something without knowing what the patient might be sensitive to. Also, how does the patient get hold of the prescription? Without an ICT infrastructure behind it, it is impossible. So we need reform in order for digitalization to be implemented effectively. We cannot go straight from carbonless paper to electronically-signed prescriptions.
If we keep our focus on reforms, we can go a long way in a short amount of time. There is a solution for any problem when it comes to digitalization and technology, but we need to put that basic infrastructure in place.
It is much harder to rehabilitate the Romanian railway network than to digitalize key sectors like healthcare or education. But we need to do it right now, to have the willingness to do it. If we don't start now, it will end up taking much longer. Last year we saw many children being unable to attend online education. Communications operators have made great efforts to bring equipment and solutions to these families. 250,000 tablets were delivered following the tender coordinated by the Education Ministry, and Vodafone Romania was one of the providers, with more than 100,000 tablets delivered. But it was not an easy thing to do within a very tight deadline and considering the huge demand for devices during this period,. And it is not enough; Digital content is almost non-existent, so the whole system must be completely reformed to be brought into the present. There are digital solutions that could bridge this gap, but they are not enough to create a modern education system. And if things don't change soon, entire generations of children will suffer.
"Our role has evolved towards that of a technology provider for our business customers for many years now. We aim to be a digitalization partner for both private and public organisations, as we have the experience, know-how, and proven skills required to implement successful projects." Mihnea Radulescu, Business Director at Vodafone Romania
Does the technology industry have solutions for all these social and economic problems?
Technology and digital solutions are already here and there is enough expertise on the market to implement them effectively. Let's take smart city and smart administration policies as an example: interactions with citizens mostly take place offline today, with only a few positive examples of online services. Administrations can use sensors for smart lighting or monitoring waste collection and recycling, for example. On the traffic management side, there are platforms available that use artificial intelligence. To streamline communication with citizens, government agencies can adopt digital solutions that we have implemented for private clients in Romania. At the same time, telecommunications providers can play a more active role in the digitalization process. In Vodafone's case, we've no longer been just a telecommunications provider for old customers for quite a while now. They are now buying security, IoT, and automation solutions from us. Of course, telecommunications remain the backbone of our services, but we're doing much more today. We aim to bring value to the client's business, to offer solutions that increase their profitability and reduce their costs. We have implemented solutions in sectors like retail, logistics, agriculture, and fleet management; all this experience and know-how allow us to play an important role in our clients' digitalization journeys.
We will launch some new tools to provide assistance to companies in the digitalization process. We started with big clients, for whom we've customised a lot of solutions, but now we are moving towards a standardisation that will allow us to offer similar solutions to smaller companies as well.