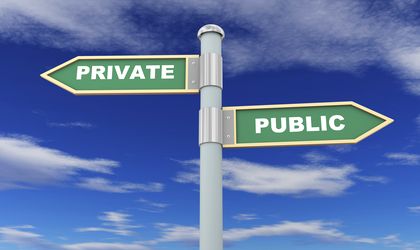 Romania has only one state-owned company which reached the EUR 1 billion threshold in turnover, despite the largest involvement of the government in the economy in the European Union in terms of number of companies.
Ministry of Finance data show that Romgaz was the biggest state-owned company in terms of turnover in 2017, and the only government business to reach the EUR 1 billion threshold.
Romgaz posted a turnover of RON 4.58 billion (slightly over EUR 1 billion) in 2017, up 34.4 percent from 2016, and a net profit of RON 1.85 billion (EUR 405 million), up 81 percent.
The other "crown jewels" state-owned companies, like Hidroelectrica and Nuclearelectrica, are still far from the EUR 1 billion threshold. The former posted a turnover of RON 3.2 billion (EUR 712.2 million) last year, while the latter reached a turnover of only RON 1.9 billion (EUR 416 million).
Official data show that private-owned Automobile Dacia, OMV Petrom, Rompetrol and Kaufland are the biggest companies in Romania, with turnovers over the RON 10 billion (EUR 2.2 billion) in 2017, but around twenty local private companies – mostly foreign owned – have businesses of over EUR 1 billion.
Overwhelming state-owned sector
A recent World Bank's study indicates that a major problem in Romania is the large share of state-owned companies, compared to other countries.
"State control is apparent in the preeminence of state-owned enterprises (SoEs) in key sectors. With approximately 1,400 operational SoEs, of which about 200 are majority controlled by the central government, Romania's SoE sector is the largest in the EU in terms of number of companies," according to the study "From Uneven Growth to Inclusive Development. Romania's Path to Shared Prosperity", recently released by the World Bank.
Romania's state-owned companies are less productive than private ones, and the fact that private firms are acquiring products and services from state-owned companies affects the efficiency in the private sector.
"Weak governance has created an uncertain business environment, misallocation of resources to state-owned enterprises and politically connected firms, and insufficient utilization of EU funds. (…) Poor corporate governance of SoEs leads to vast inefficiencies, with some companies generating large losses and SoEs receiving approximately 2 percent of total government spending," the report point out.
According to the World Bank's experts, state-owned companies in energy, gas, postal services, and transport are the most inefficient.
"Particularly in energy and gas, deregulation and a stable legal framework could boost competition and investments (including cross-border) and ensure sustainable and cost-efficient supply," the World Bank said.