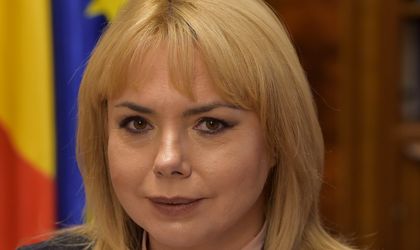 With Romania having the first woman to ever hold the Presidency of the Senate and having noticed that women play an increasing role both in public and private sector,  either by holding C-level positions or being members of the board, Business Review invites you to discover the professional stories of outstanding women who have spectacular results and who built their career in fields which are known to be dominated by men.
With a background in economics, having worked as a central banker and later as a macroeconomist, Anca Dragu is now the first woman to ever hold the Presidency of the Romanian Senate. She sat down with Business Review to talk about what it has been like holding such a position as a woman, the biggest challenges she has faced in her career, and how she was able to overcome them.
By Anda Sebesi
Throughout her career, Romanian Senate President Anca Dragu has made constant efforts to gain more knowledge and take advantage of the few opportunities that an emerging economy and young democracy like 1990s Romania had to offer for young women like her. She started her economic studies at the beginning of the 90's, began her career as a central banker, and later became a ma-croeconomist. "Working for international institutions in macroeconomics and economic policy, I was able to learn about many economies across the world, understand the role of structural reforms in sustainable and inclusive growth and sectorial policies, as well as observe best practices. This gave me a good overview of economic systems and reform and it offered me the chance to develop skills that I could use to lead international teams and bring harmony into diverse groups," says Anca Dragu.
In reality, the number of women involved in Romanian politics is quite small. However, Anca Dragu has never felt discouraged by her fellow senators or party members during her political experience, and her collaboration with all colleagues in the Romanian Senate and Parliament has been based on mutual respect. "My belief is that we can educate people around us and encourage open-mindedness regarding a gender-balanced professional environment by sending the right message and adopting the right attitude, so I have been acting accordingly. As the President of the Senate, I see it as my duty to be a role model and empower women who might want to get involved in politics, but may feel discouraged by social pressure or stereotypes." She thinks that women in our country can be successful political leaders and have a strong family at the same time. "It's not rocket science; it's only about balance and self-confidence," she says.
Asked whether she had a woman as a role model, Anca Dragu says that she looks up to both men and women, including historical figures from national and international history, but also people in her life who have inspired her professionally. Her strongest personal values are tenacity, honesty, and respect for others. "I've been inspired by teachers in primary and secondary school, by colleagues, and by family," she recalls.
As for the most challenging moments of her career as a C-level executive, Dragu says that joining a new company and departing from a job are always difficult. "But in between, in my last role, I had to go through the pandemic and the lockdown together with my team. Staying close to the members of my team during the pandemic was a huge challenge. I felt my colleagues' need to be understood and appreciated from a distance. I offered them my support, I organised one-to-one discussions, online meetings with influencers and trainers, all aimed at boosting their confidence and preventing feelings of loneliness and lack of trust."
For her, maintaining thought independence and having the strength to act as a voice of reason while constructively challenging opinions were some of the biggest challenges she faced in her C-level roles. Building and integrating a new team structure, transforming an organisation and getting it to go from working in silos to a cooperative/matrix workstyle, generating a "one team, one goal" attitude, and implementing major economic projects that would have a positive impact in a short period of time were among Dragu's most important achievements as a C-level professional.