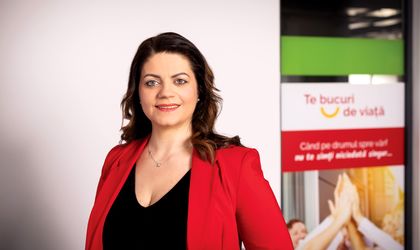 With Romania having the first woman to ever hold the Presidency of the Senate and having noticed that women play an increasing role both in public and private sector,  either by holding C-level positions or being members of the board, Business Review invites you to discover the professional stories of outstanding women who have spectacular results and who built their career in fields which are known to be dominated by men. 
With vast experience in the retail sector, Adina Nanu, Director of Human Resources and Transformation and member of the board at Auchan Retail Romania, sat down with Business Review to take us through her professional journey so far, pointing out that skipping steps is not a good idea if the aim is to build a healthy career.
By Anda Sebesi
Adina Nanu has been with Auchan ever since the French retailer first entered the Romanian market 15 years ago, and by that time she had already spent six years working in the retail sector. Nanu has therefore been present at every stage of the company's development in Romania, having taken on challenges in several business areas, which enriched her experience and gave her the energy to move forward, even in delicate moments. "I started out as a Buyer and then I continued as Private Label Manager, overseeing the building, development, and implementation of private labels in Auchan. Later, I continued in roles like Purchasing Group Coordinator and Brand and Quality Director," she recalls.
Four years ago, she transitioned from managing products to managing people, thus beginning her career in HR. "Working in Human Resources was an old dream that came true at a time when I had almost forgot about it. I am convinced that change is sometimes healthy, including in one's professional path – it helps you gain a new perspective and develop further. In addition, a person with a solid background in a particular field can often bring added value to an entirely new line of work. This kind of move can benefit both the company, bringing fresh vision and new approaches, as well as the person, because they can take on different responsibilities and face completely new types of decisions," Nanu says. In the summer of 2020, she was appointed Interim Director of Human Resources and Transformation, and from December 1st onwards, she took over the role on a permanent basis, and also became a member of the Auchan board.
Acknowledging the fact that women are generally associated with HR roles, Nanu says: "I don't think there are rational reasons for this, just like I don't think there are rational reasons why a woman couldn't take on any role in a company; and the same can be said for men. I believe that an acceleration of gender diversity would bring many benefits to HR practices, as well as to other areas of business," she argues. Speaking about her position as a member of the Auchan board, Nanu adds: "I haven't given much thought to the fact that most of my colleagues on the board are men. I see myself as an equal member of the team, and I've never felt like they perceived me otherwise." As for the challenges she has faced as a C-level executive, Nanu says that the main challenge was to believe that the decisions she made at a certain point were the best in the given context, with the data she had. "Another inherent challenge in such a role is knowing that your decisions are about people and that they can decisively impact their lives. But the greatest reward is knowing that my decisions can make people's lives better, and that is my main goal in this role – to make their lives as good as possible, and guide their professional development based on their merits," the Auchan executive concludes.