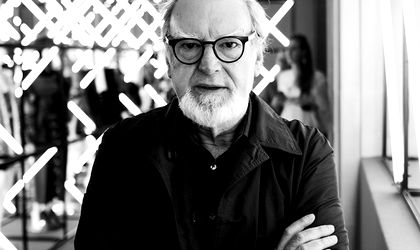 Winner of several international awards for architecture, and creator of the Elastic Living and Black Cube concepts, Angelo Roventa was one of Romanian Design Week 2018's special guests. BR sat down with him and talked about urbanism, modern buildings and the new architecture and its impact.
By Romanita Oprea
What advice would you give to young Romanian artists wanting to make themselves known and, why not, break the Romanian borders?
I think that it is very important to be driven by the desire to do it. Perseverance. Courage. Trust in oneself. A dimension and a state of love. If you could be permanently in love you would produce fantastic works of art. The steps taken depend on each individual's personality and I cannot offer general pieces of advice. I believe one is drawn by the desire with which one entered this field of activity.
The projects that gave me the biggest personal satisfaction were the ones I proposed myself. The themes I gave myself. It might also be because I had the biggest success with them.
What made you decide become an architect?
The architecture path came to me in a strange manner. I wanted to be a sculptor, but I later changed my mind and wanted to be a doctor instead, as I had many relatives working in that field. But my mother was opposed to the idea. As a doctor herself, she thought that I wasn't cut out for it. So she suggested I chose architecture, even though back then I had no idea what it meant. I passed the entrance exams, but my real, whole interest in the industry started when I began to pay it attention, to try to understand it and see what it was all about.
Back then, everybody in Romania used the phrase "to steal trade". But that was something I've always felt was wrong. It's like today if I said something from the language of those times. Because the atmosphere in the Mincu Institute was extremely good. Those who wanted to learn and were interested always received help. In my case, it was school that got my interest back on track.
In Western Europe there is conventional study, with everybody in full competition mode, all the time, and everyone is responsible for what they can learn or not. But at Mincu we had a lot of team spirit, and architecture is a team job. In the past, internationally, there were names of important architects who became brands, but today all this is gone. There are some names, but this attitude is completely in the past, from my point of view.
When architects are not talked about as if they were divinities, and instead people talk more about what they've managed to get done, it's a healthy trend.
How would you characterize the quality of submissions that you were asked to choose from at Romanian Design Week 2018?
I was more interested in discovering authenticity, creativity and the desire to fit as correctly as possible to the proposed theme. There are some extraordinary works, but I cannot figure out where they come from. I have no idea if they are from Bucharest or a suburb in Paris or somewhere in Frankfurt. I was less interested in that type of works and more drawn towards the ones in a context and how correct was the answer they gave.
Architecture can exist as long as there is money and the faster the client defines its problems and architecture gives it answers, the better. Clients are diverse and we must always ask who those clients are. When it's about public buildings or the development of a city the client is the administration alongside the politicians. But the final client is actually the public who wants to benefit from places where children can play or a bicycle track, a park, etc. We all know that green spaces are disappearing from crowded, urban centers, where we don't have a place to park our cars, etc.
Therefore, the architecture that is born reflects very clearly the state of the society that is using it. There is a strong fight starting from urbanism and ending with the decorative objects that we find in stores and that can make our houses more beautiful. All designers, town planners and architects do is look towards whoever is giving them their "homework": their clients.
A very famous architect, Luican, said 50 years ago that it doesn't matter how good the architect is, the important thing is that the client is good.
How do you believe Bucharest looks from an esthetics and town planning point of view?
Each city has an esthetics of its own. The problem that we encounter is that everything is newly built. I can talk about how European cities and Romanian cities were 40 years ago. Since then the impact has been too weak. What happens on the outskirts of Bucharest is something that happens everywhere. If I visited a city, anywhere in Europe, I wouldn't go to the outskirts. And if by pure chance I ended up there, they all look the same. The cities are still characterized by the times in which many traditions and cultures, artisans and their qualitative work all left their mark.
How do you see this combination between old and modern buildings? Does it have any logic?
There has been logic forever. We can think about Ceausescu's times when many buildings were razed and entire places disappeared, as we still bury the tracks from those days. It all had a logic. Now whether it was good or bad logic is another discussion. But what it translates from those changes is positive. Contemporary architecture risks destroying the public environment. There is an architectural object that it cannot satisfy, from a town planning point of view.
Are there some European cities whose examples you would say that Romania could follow?
No, Romania has enough energy and creativity to design itself. I believe that, from this point of view, it would be a mistake to look at other examples. It would be just like looking at Sibiu, Brasov or Targu Mures, a Transylvanian city that has a completely different architectural language; totally different elements have generated the architecture and it would be something artificial, imported. It would be a horrible mistake.
Unfortunately there are always imported things that you can easily find in Budapest or anywhere else in the world. I was always surprised by the built substance, which is something fantastic. This is why I was trying to criticize what happens at the outskirts.
If people looked for continuity, it would be much better. Unfortunately, there is always something being imported; it's a demonstration of useless forms.
Technology has changed architecture a lot in recent years. How much do you believe it can still change it?
I don't know if technology has changed architecture. Technology is an instrument that has helped the architect's work to a certain degree. Architecture has always had the problem of representation, of being able to express what the architect was presenting for consumption. When I was a student at Mincu we studied on tempera and China ink. You could find all types of crayons everywhere. In the meantime, the architects still studying have stopped using them. No crayons, no chalk.
For Ceausescu and people from that time, a one-to-one model of a house was built, in order for them to understand. Even in my time I had to learn descriptive geometry; I had to learn all kinds of things. And it's not up to human intelligence, but about the practice you need in this field.
At the moment it's working, and it is some kind of relief, with the technology of Virtual Reality glasses. This technology allows you to just walk around the built space and to see exactly what you will get. This is extremely important. It's a very interesting and necessary leap.
I personally don't design with the help of the computer; only my collaborators do. I design traditionally, by hand. The biggest step for me was when I started to reduce the dimensions of the plan, because I did a lot of town planning. I started to reduce them and make them more and more compressed. Through the graphic representation I was able to express and to draw on a piece of A4 paper projects that some years ago I did only at a very large scale. And all I need is a pen. I gave up the academic forms completely because the technology developed alongside the design stage. But, in the end, it's just an object. For me it is very clear that the computer is not doing the project as the project needs to be thought of. The computer only helps you make the most accurate representation possible in order to have a very good basis for discussion with the client.
The creativity dimension cannot be overtaken by a technological intelligence.