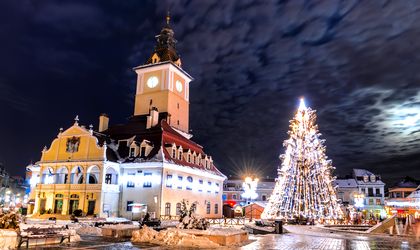 The local elections held in Romania in September 2020 highlighted a new electoral approach in Romania's biggest cities: a large share of urbanites acknowledging the fact that their cities should be more competitive at both the local and European level.
By Sorin Melenciuc
Many people currently living in Timisoara envy those living in Cluj, while people in Arad envy the inhabitants of Oradea due to the faster development they have experienced during the last decade. But other cities, like Brasov or Iasi, are also preparing to launch new projects with the aim of becoming much more competitive and attracting more people and businesses.
Greater expectations
This year's local elections saw Romanian voters adopting a more mature approach to the future of their communities. In larger cities, where the population is wealthier, more interested in politics, and more educated, these elections generated fierce debates around improving public services – from healthcare or education to public transportation and tax bureaucracy –, reducing pollution, and building new parks, modern public spaces or entertainment facilities.
Many of these topics are quite new on the public agenda as new generations of middle-class urbanites have emerged in big cities. These people usually spend their holidays in city-breaks in western Europe and are now demanding that their home cities look more like those in France, Germany or Spain. It may not be surprising that this more mature approach emerged just as Romania was officially named a "high-income country," with its gross national income (GNI) per capita in 2019 slightly rising above the threshold set by the Word Bank for this category.
According to the World Bank's latest thresholds, published in July 2020, low-income economies (a politically correct name for "the third world") are defined as those with a GNI per capita, calculated using the World Bank Atlas method, of USD 1,035 or less in 2019. Lower middle-income economies have a GNI per capita between USD 1,036 and USD 4,045, upper middle-income economies fall between USD 4,046 and USD 12,535, while high-income economies are those with USD 12,536 per capita or more.
In 2019, Romania's GNI per capita of USD 12,630 allowed it to advance to the "high-income economy" classification for the first time in its history, after having been part of the "upper middle-income" group for the last few decades.
According to the latest World Bank report, 82 countries and territories are currently considered to be "high income economies," including 27 out of the 28 European Union member states, with Bulgaria being the only exception.
Setting new goals
This achievement was mainly the result of the impressive economic development of Romania's largest cities over the last couple of decades. "The main cities in Romania are the engines behind this development. One of these engines is the city of Brasov. If we look at its growth rate, we can see that it has been growing faster than Singapore did in its period of economic boom," says Marcel Heroiu, a World Bank adviser.
Nevertheless, Brasov was one of the cities that voted in a new mayor this fall – and not because it hasn't developed quickly, but because it hasn't happened quickly enough for its exigent electorate. Other cities, though already well-developed, made an even more radical political change. The rich and sophisticated city of Timisoara now has a foreign mayor: Dominic Fritz, born in the Schwarzwald region of Germany, with no family roots in Romania and not even holding Romanian citizenship. Along similar lines, Bucharest's Sector 1, the wealthiest part of the city, elected a French national (but with Romanian citizenship): Clotilde Armand. These cities have developed at a rapid pace over the last couple of decades and they also have strong private sectors – and this tends to have a political impact.
"More often than not, a city with a strong and dynamic private sector tends to also be a city with a good administration, a city with better and improving public infrastructure, a city with a bustling culture and art scene, and a city with a good quality of life. Unfortunately, when it comes to encouraging private sector development, local administrations seem to be at a loss for ideas," a recent World Bank report reads. And running out of ideas is often associated with losing political power in Romania, as it is in many other countries.
Experts warn that Romania's urban policies need a major shift as they have been excessively driven by EU funds.
"Urban priorities have often been defined in response to the requirements of EU-funded programs. This has limited the scope of the identified projects as the EU's priorities do not cover the whole palette of needs in Romanian cities. While western European cities have a more elevated set of needs (e.g. focus on innovation and entrepreneurship, sustainability, climate change), Romanian cities continue to have significant basic infrastructure gaps," the World Bank's recent report "Romania: Catching-Up Regions" points out.
Experts recommend reconciling the needs of Romanian cities with EU priorities, a process that requires an open dialogue and a clear understanding of the multitude of needs seen in European cities, and ways in which the EU could respond to those needs. "Obviously, the needs of Bordeaux are likely to be quite different to the needs of Iasi. Moreover, Bordeaux has more advanced and complex means to spell out its needs, yet even in Romania there is demand for interjurisdictional programmes and project implementation," the report indicates.
In Romania, residents of large cities tend to have other types of expectations from politicians than their rural counterparts as they move more often around the country and abroad – and the quality of roads and public transportation currently ranks among their top priorities. The low quality of education and healthcare are also huge problems as these public services have not kept up with the demographic expansion of functional urban areas in Romania.
"Amid the rapid development of new settlements in the suburbs and peri-urban areas of dynamic cities in Romania, critical public infrastructure has been slow to follow. Therefore, there are communities with several thousand new residents, but with no new schools, kindergartens or nurseries, adding pressure to the existing social and transport infrastructure," World Bank experts say.
Big cities' dominance
The last couple of decades have been associated with rapid development, but also with larger gaps between rich and poor communities.
The Bucharest region and the counties of Cluj and Timis, the most developed in the country, already generate a third of Romania's gross domestic product (GDP). In some cases, some business clusters in big cities have more impact on the economy than do entire regions. For example, according to World Bank experts, the Pipera Office Park in northern Bucharest generates 2 percent of the country's GDP, more than certain counties are able to contribute.
These differences also translate into huge wage disparities between rich and poor regions and, especially during the last decade, a larger gap in the quality of life. Rich cities tend to invest more than poorer communities in improving quality of life, and this can be easily observed in the quality of roads, public transportation, and public parks. In the city of Cluj-Napoca, the amount of green space per capita rose from 10 to 25 square meters from 2000 to 2015, while in Galati, a declining heavy industry-based large city, the same indicator decreased from 30 to 18 sqm per capita in the same period.
In fact, only nine out of the 41 county seats in Romania meet the European Commission's minimum requirement of 26 square meters of green space per capita for cities. This explains why the subject was high on the agenda during the campaign ahead of this year's local elections, with many candidates promising more parks and lower pollution levels.
The new generation of mayors which has emerged in Romania will have to address these challenges in order to improve the quality of life of millions of people – and gain (or lose) traction across the country.