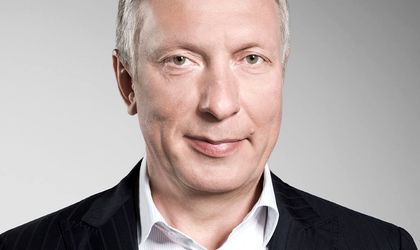 Data management is one of the main industries of today and it will become even more important as products and services become increasingly digital. The volume of data collected globally is doubling in size every 2 years and that means moving the storage on public cloud, where it has to be managed through automated processes.
Veeam Software is a B2B company that offers backup and security services for data centers. With almost 3,600 employees globally and 500 in Romania, the company is the leader in Backup solutions in the US and Europe. It has its headquarters in Baar, Switzerland, offices in 35 countries, and its products are sold in 183 countries around the world. We talked to Ratmir Timashev, co-founder and executive vice president of Sales & Marketing, to find out how a company that started 10 years ago managed to become a market leader.
"VeeAM stand for Virtual Machine, but we had to change to pronunciation because it sounded like VM, as in VM Ware. They invented this technology, the virtual machines (VM), which is the foundation we work on," says Timashev. "Veeam was set up in 2006 and the first product was launched in 2008. But it was not the first company for me and my partner. Back in 1996 when I was a graduate student at Ohio State University in the US, I was coming from Moscow as a scientist, in the chemistry field. The Moscow Institute of Physics and Technology, the 'MIT' of Russia. I met my partner in 1985 and we were in the US together. We decided to open an e-commerce store, like Amazon. But then we quickly moved to developing tools to manage the platform Microsoft had just released, called Microsoft Windows NT, in order to simplify the use of the online store."
Microsoft NT was then called Microsoft Windows Serve and now it is Microsoft Azure. The operating system at the time was Microsoft 95 and the business operating system for data centers was Microsoft NT.
"So we started to develop tools like security, monitoring, management for that platform, which platform became very popular. If you go into a data center today, part of it is Windows Server, part of it is Linux and the other part is Unix, the mainframe. We started selling our product in 1996 and sales grew very fast. In 2003 we sold it to Quest Software, one of our competitors, which was a public company. We worked for Quest for one year – I was the general manager of that division.

We were developing on-premises data centers, which are private clouds. Your own cloud for data. Today, the private cloud consists mostly of Windows and Linux, but on top of it is VM technology. This is so you can move virtual machines between different servers."
Founding a new company
"We left Quest in 2005 and we asked ourselves what we should do next. We made good money, as we sold the company for USD 150 million. Of course, we didn't get all the money because we had venture capital invested in the company, but we had enough to start a new company. We were wondering what was going to be the next trend. And we thought that virtual machines were going to be next and we were right. VM technology became very popular in every data center. Now there is a new trend, which is moving to public cloud.

What virtual machines did was allowing you to move and use different virtual processes on one physical server. Before that, everybody had an Oracle database that allowed only one VM in a physical server. What our company does is it provides new instruments for anti-virus, security, data backup. We created the best data backup for data center and since everything is about data we grew very fast from zero to USD 1 billion, we reached that turnover in 10 years, from 2008 to 2018."
The need for security
"We are in the business of data management and protection in your on-premises cloud. We are the leader in this area. We compete with companies with long histories in IT, like IBM, HP, Dell EMC, Veritas. We are partners with most of them, like HP and Cisco or Net App, the customers buy hardware from them and software from us. We are the primary data solution for them."
As Ratmir Timashev says, there is a now a new wave for the next 10 years, of moving from on-premises systems to multi-cloud or hybrid cloud systems.
"In technology you don't want to be the first, you have to have the right product at the right time and the right place. Apple was not the first to launch a smartphone, for example. The amount of data today doubles every two years. And it is spread everywhere, that is why companies like us must innovate all the time in order to recover fast any data. More data means you have to back up more, you have to do it every 5 minutes, while ten years ago you would back up every week or so."

"Every product is more digital today and digital products means more data and that is stored in the cloud. This is where artificial intelligence comes into place. We also use machine learning or AI; for example, GDPR compliance, all the companies went through a GDPR compliance process. When you have to remove data for a customer when a customer asks you to but now something happened and you have to restore that data and the data is in the backup and we use AI to bring it back.
Asked about the trust that data centers may need to have in Veeam products, Timashev says: "We don't get the actual data; we have the support logs for every entry so when the customer calls we asked them to tell us the log number so we can see what happened and provide the best practices. But we don't have the data."
The expansion
"Our headquarters are in Baar, Switzerland, we have offices in 35 countries and we sell our software in 183 countries. In Romania we opened in November 2015. We have a small team that sells our product on the local market and another one that sells it in Europe. The main function we have here is for global marketing. We don't develop software here, that is made in Prague, the Czech Republic, and in Sankt Petersburg, Russia."
The company also provides customer tech support from Romania. The local team has reached almost 500 employees in 2 years.
"We chose Romania after evaluating different countries that give access to a good internet infrastructure, access to young and educated people and have low costs. In Prague or in Ireland for example the costs are much higher and those are, like the Baltic states, quite small, which means a smaller workforce available. Also we looked foreign languages, a good proficiency of foreign languages."
"We have 17 different nationalities in our offices here in Bucharest," says Andrei Romanescu, managing director Veeam Romania.
"We have almost 3,600 employees around the world. Last year we finished at almost USD 1 billion in turnover. The company is owned by me, my partner and the executive team. Plus, we have investors; we recently had a USD 500 million investment round, two weeks ago. We will use the money to accelerate our growth organically and through acquisitions. In field like Artificial Intelligence or GDPR compliance. Data management is a market of USD 20 billion globally, while data backup is USD 7-8 billion. So we need to add services from data management," says Timashev.
"Over the last 3 years, Veeam grew by double digits in Romania, while the whole market grew 5-10 percent," says Romanescu.
The future is cloud and AI
"In the future, everything will be on the cloud and it will be automated. Machine learning and AI will be very important; in 20 years there will be 10 times more data that needs to be managed automatically.

AI is not about robots, is about processes managed automatically. The amount of data that machines can process is beyond human power; for example, the cure for cancer will come from machines, from AI," explains Timashev.
According to the officials, the plans for Romania include hiring another 250 people in the next couple of years.
"Bucharest will continue to be one of our main operating centers. So far, we invested around USD 50 million in Romania," says Timashev.