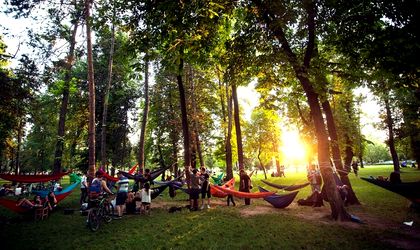 When a niche musical genre like jazz becomes a hit on the national festival circuit, you wonder how long it will be until jazz becomes mainstream in Romania. Don't worry, that's not going to happen, but the question remains: what's with all these jazz festivals that from one year to another continue to expand in the least likely places? Business Review went into the field to find out what's going down with all that jazz.
By Oana Vasiliu
Once upon a time…
Romania's multicultural heritage is evident in the country's uptake of a wide range of music: from classical to funky jazz and Balkan-influenced rhythms, Romanian performers embrace a diversity of styles and genres, often reinterpreting traditional themes in their compositions. And many local names have made it big internationally. On the jazz scene, there is no musician out there who doesn't know the magical sounds of the late Johnny Raducanu, also known as the "Romanian Mr. Jazz." With Roma roots, Raducanu (1931-2011) showed remarkable talent from an early age that ultimately led to one of the most inspiring artistic journeys. He managed to release several albums during Romania's communist period and toured the US with the support of American organizations. Until the last days of his life, Raducanu remained one of the legendary presences in the world's jazz bars, playing anything from classics to his own arrangements, influenced by Romanian folklore. 
All that festival jazz
Romania's jazz calendar is bursting: summer brings a myriad of events, from north to south, east to west. Business Review talked to some of the festival organizers to find out how a niche musical genre can become such a nationwide hit. We asked how their jazz festivals stand out amongst their summer festival peers, and what unique experiences attendees get.
Summer starts with Green Hours Jazz Fest, between 31 May and 3 June, in one of Bucharest's longest-running live jazz venues. Tin Men and the Telephone, Leszek Możdżer and Jasper Hoiby's Fellow Creatures are among the bands booked to play. "The Green Hours Jazz Fest line-up is always eclectic and surprising. We manage to create, in our 'avant-garden', a unique and intimate climate, in the middle of a crowded and crazy city. And last but not least, we keep the jazz in the place where it was born: in a club. (…) Modern, contemporary, classical, electronic, experimental, world, avant-garde…we call it 'jazz'. We like to think that the music of tomorrow happens today," says Rozana Mihalache, artistic coordinator of Green Hours & Green Hours JAZZ Fest.
Next up is Jazz in the Park Cluj-Napoca, from 21 June – 1 July, which has developed appreciably, with more bands and activities both for jazz lovers and Cluj residents. "Since the beginning, we've wanted through our festival to do more than just music or entertainment: we wanted it to mean something to the local community. This is why every event and venue has a special story or reason. We were the first to use the local central park, we discovered a special beach on the riverside, and since last year, we've dedicated one day of the festival to events for members of the community living near the garbage landfill. (…) In terms of participation, we've positioned ourselves as welcoming a general crowd, not only jazz enthusiasts. This is way we have a lot of open-air venues with big capacities. People come to our festival to discover elaborate or high-quality music in a very friendly and open environment," Alin Vaida, director of Jazz in the Park Festival, told Business Review.
He added, "The general feeling at the festival is joyful and you feel part of what is happening there. We know that jazz isn't the most popular musical genre and we don't act like it is, but our sole message is that you should appreciate jazz too. Because it stands for certain values that are important: freedom, openness, curiosity, civic duties. So, to sum up in one sentence, you don't attend Jazz in the Park, you are part of it… if you come, of course."
From Cluj we move west, where Timisoara celebrates with JazzTM, which attracts some of the greatest names in international jazz: Gregory Porter, The Cinematic Orchestra and Kurt Rosenwinkel. The action takes place throughout the last weekend of June. "JazzTM's approach to jazz was, from the beginning, discovering its many facets and great range of influences and bringing it in front of a general audience. The aim is not that this audience comes prepared, but that a large audience gets to experience something new, is taken by surprise, learns and interacts with sounds and musicians that they wouldn't if it weren't for JazzTM," says Norbert Tako, JazzTM festival's director. "A line-up that smoothly combines and promotes new Romanian acts with experimental, fresh and fusion approaches and international household names from the jazz scene, this greatly entertaining and interesting puzzle will make anyone fall in love with jazz. (…) The nights vibrate with nocturnal jam sessions that invite all local and national musicians to join the JazzTM artists in creating together. This year a focus will be the educational program that is under development and which aims to further enrich the artistic community through facilitating interaction."
Bucharest also has a jazz festival of its own, which is gradually carving out a name in the jazz world, in the heart of the city, at Piata George Enescu. This year's Bucharest Jazz Festival runs from 3-9 July. The festival has grown each year, fighting for recognition in the capital's crowded cultural calendar.
For 22 years now, the Garana Jazz Festival has attracted a chilled-out crowd for jazz in the forest. Chilled-out in both senses – the village is in the mountains and the evenings are cool, so take a jacket! Garana Jazz Festival is a once in a lifetime jazz experience, for the atmosphere of its surroundings. Pack your tent and your warm clothes and head to the mountains to disconnect from everyday life and get into the groove.
One of the newest jazz festivals in Romania, Smida Jazz Festival has quickly won plaudits for its eclectic line-up. Positioned similarly to Garana Jazz Festival, this international event is dedicated to avant-garde jazz, built on the unique concept of blending innovative jazz styles with the raw beauty of the Apuseni Mountains. The event takes place in the open air, in Smida, a Transylvanian village in the heart of Apuseni Natural Park. Outdoor activities accompany music from international and Romanian artists. The event runs from 17-19 August.
The new kid on the block is The Piano Jazz Festival in Bacau, one of the Moldavian city's first attempts to create a festival-going public. "Our festival stands out amongst other summer festivals for the fact that it's not just a simple festival where musicians perform on stage, but a dialog, a cultural dialog between people and local artists, painters, musicians and actors. This festival is a necessity for Bacau and is the only one of its kind in the Moldavian region, not just in our town," the festival's organizers told Business Review.