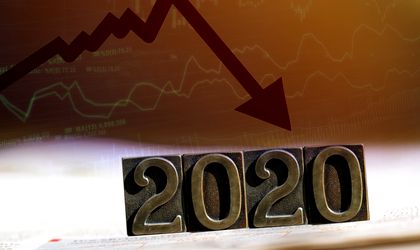 The global economy is already in recession. The COVID-19 pandemic has grinded economic activity to a halt, so central banks and governments are looking for the best ways to help people and companies.
By Aurel Constantin
The world economy was forecast to grow by 1.6 percent this year in the most recent Reuters poll, at half of the 3.1 percent growth forecast of January 2020. "We have cut our global GDP forecast to 1.25 percent for the year," noted the Goldman Sachs economic research team. But they expect Europe, Japan, Canada, and the United State to end 2020 in recession.
And these are just middle-of-the-crisis predictions, as the pandemic is still in full swing in the first days of April. The peak for most countries is expected in the second half of April, meaning that the economies could only start their recoveries in late May or June.
On April 1, the number of coronavirus cases worldwide had passed 900,000, with over 45,000 deaths and almost 200,000 recoveries. The US was the worst hit with almost 200,000 cases and over 4,000 deaths. China, South Korea, and Japan looked like they had managed to keep the pandemic under control, but Europe and North America had not yet reached their peak.
The head of the International Monetary Fund (IMF) said on March 27 that the global economy had gone into a recession that could be worse than the 2009 crisis. IMF Managing Director Kristalina Georgieva said that the organisation was forecasting a recovery for 2021, but that it would only occur if nations succeeded in containing the coronavirus spread and limiting the economic damage. "A key concern about a long-lasting impact of the sudden stop of the world economy is the risk of a wave of bankruptcies and layoffs that not only can undermine the recovery but erode the fabric of our societies," said Georgieva in a telephone conference.
Lower income countries were hit hard by the spreading coronavirus, with 81 nations now seeking support from an IMF emergency financing program. The first to receive a support package was Kyrgyzstan, which obtained USD 120.9 million to deal with the crisis. Even Romanian officials said that asking the IMF for support was an option, but they have not yet taken any such action.
The IMF will put together a package of reforms that should be presented in mid-April, and they will be meant to provide debt relief to the poorest countries. The reforms will be developed together with the World Bank.
Emergency funding relief
Most countries have already launched programs and initiatives to help people and companies. US president Donald Trump signed a USD 2 trillion coronavirus relief bill, in an attempt to stop the economic destruction. This stimulus package is the largest in US history.
The plan includes one-time payments to citizens at USD 1,200 per adult and additional payments for children. It also strengthens unemployment insurance, offers additional healthcare funding as well as loans and grants to businesses to deter layoffs. Trump signed the bill into law a day after data had shown unemployment claims jumping to a record 3.3 million as businesses across the country closed down to slow the virus spread. The bill also offers a USD 60 billion bailout to airlines and USD 500 billion in lending for companies.
The European Union has not yet managed to agree on the scale of the support. Member states like Italy, France, and Spain have pushed for a credit line worth 2 percent of the EU's economic output, but Germany and the Netherlands blocked the plan. The package is still on the table and it will be negotiated throughout April, as the coronavirus spread continues.
The European Parliament has already released EUR 37 billion in emergency funds and measures to help airlines, while the European Central Bank announced emergency bond purchases in order to put EUR 750 billion into circulation.
In Romania, the government approved programs to help those who found themselves unemployed due to the COVID-19 crisis, opened credit lines for companies, and postponed bank installments for those in need. But more help may be needed down the line since April will clearly be a lost month for the economy and the number of people hit by the crisis will only increase. By the end of March, over half a million people had lost their jobs either temporarily or permanently.
Oil goes back to 2000
Oil prices saw big drops in March as well: international benchmark Brent was down from around USD 58 per barrel in February to USD 20, a price that sends the price back to 2002. West Texas Intermediate (WTI) fell below the USD 20 level.
Editor's note: by the time of this article's online publishing, WTI oil suffered a historic crash, going into negative figures at USD -40 per barrel. Read more here.
The oil industry's problems come not just from the coronavirus crisis. Global demand had been on a downward trend since February, when China was already fully closed. OPEC nations started talks with Russia to lower production in order to keep the price from decreasing, but Russia rejected their requests. Saudi Arabia was quick to answer and decided to increase production by 2.6 million barrels of crude oil per day starting in April, and cut prices for customers in Europe, a crucial market for Russia's oil industry.
In just a few days, crude prices fell 30 percent. Russia was not impressed, as it said that its economy did not rely on oil as much as Saudi Arabia's did. Yet in 2019, the Russian Central Bank reported that the economy would be pushed into recession if the barrel price fell below USD 25. Saudi Arabia's extraction costs are the lowest in the world and it may last longer on cheap oil, while Russia will have more difficulties.
US producers of shale oil are also on the spot. They have the highest production costs, above those of Russia or Saudi Arabia, and prices like USD 25 per barrel are forcing them to halt production. Still, these are smaller companies that can go in and out of business as prices dictate. So when prices go back up, US shale production will also make a comeback.
In Romania, the main gasoline and diesel producers have integrated businesses, meaning they refine the oil they extract themselves in Romania or other countries. This can make it easier to go through times when oil prices are very low, although it is not a profitable situation.
For customers, on the other hand, these are good times, with prices down at the pump. Gasoline fell to RON 4.5 per liter and diesel to RON 4.7 per liter and they may drop even further. But due to the COVID-19 crisis, demand was down by over 50 percent in March, since people are confined to their homes and not allowed to travel.
"A key concern about a long-lasting impact of the sudden stop of the world economy is the risk of a wave of bankruptcies and layoffs that not only can undermine the recovery but erode the fabric of our societies," Kristalina Georgieva, IMF Managing Director.
Stock market crash
The global stock market started to crash on February 20, when it was obvious that the COVID-19 crisis would hit worldwide. On February 12, Dow Jones Industrial Average and S&P 500 index had closed at record highs. DJIA hit over 29,500 points and S&P 500 reached 3,380 points. One week later, the market entered into a correction that lead to a severe crash in March. On March 23, DJIA was down to 18,591 points, a 37 percent crash, and S&P 500 dropped 2,237 points or 34 percent.
After the financial stimulus package was announced, the market managed to recover some of the losses. At the end of March, DJIA was up to 21,917 points and S&P 500 to 2,584 points – but that doesn't mean that they can't fall again.
The S&P 500 was down 20 percent for the year to the end of March, the Dow Jones fell 23.2 percent, and Nasdaq dropped 14.2 percent. President Donald Trump said on April 1 that Americans should prepare for what was going to be "a very painful two weeks" as the pandemic paces toward a peak in the US.
The Energy sector was the S&P 500's biggest laggard in the first three months, having dropped 51 percent. This coincided with the decline in crude oil prices, with domestic West Texas Intermediate posting its single largest quarterly and monthly declines on record, settling more than 66 percent lower for the year to the end of March.
The European STOXX 600 recorded its worst quarter in 18 years, in which it lost about USD 2.8 trillion in market value. FTSE 100, the United Kingdom's main index, fell 22 percent in the first quarter of the year to 5,463 points. German index Dax 100 dropped even further, by 28 percent in the first three months, to 9,532 points.
Globally, many indexes remain more than 20 percent below their value at the start of the year. The massive rescue funds announced by governments in recent days helped to lift share prices, but in the short term things are not looking good for the markets."Despite the monetary and financial stimulus, we expect volatility of equities to remain elevated as long as the duration and impact of COVID-19 remain unknown, oil prices stay depressed, and earnings visibility is murky," said a report by US Bank Wealth Management.
Meanwhile, investors are seeking refuge in gold. The precious metal went up to a maximum of USD 1,679 per ounce on March 9, after starting the year at USD 1,528. At the end of the quarter gold was at USD 1,578 per ounce, 5 percent higher than at the beginning of the year.
Gold will surely remain a refuge instrument this year since central banks are printing trillions of dollars in new money and triggering inflation. But there is a problem with the supply of gold bars and coins, since all major gold refineries in Europe are closed due to the coronavirus lockdown. Moreover, the passenger planes that usually moved the bullion are grounded and online shops are out of stock.
Rob Halliday-Stein, managing director of BullionByPost, one of the largest bullion traders in the UK, told CNN Business that sales of gold coins had increased five-fold in the last month. He also said that investors should be wary of buying gold if it is not yet in the hands of the seller. Since the supply chain is disrupted, it is difficult to predict when more stock will become available.
What nobody knows is when the crisis caused by COVID-19 pandemic will end. Hopes are high for a relief in May, when shops and stores should start reopening, but nothing is certain. If the lockdown lasts through April into May or June, the effects on the world's economies may be worse than anyone can imagine. And governments all over the world will have to find ways to keep people and families from starving, not businesses from closing down.