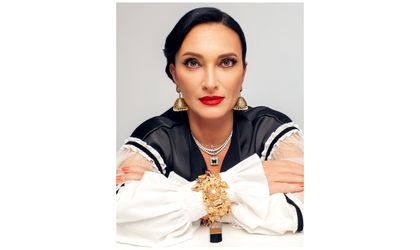 Fulga Dinu, Country Manager at CPI Romania, strongly believes that the success of any organisations resides in assembling and maintaining a motivated team of highly skilled professionals, while the role of a good leader is to safeguard the values that make people work with dedication.
By Anda Sebesi
Despite the challenging macroeconomic and geopolitical contexts, CPI Property Group had yet another very successful year. "2022 did not start out on a positive note, but from the point of view of the company I represent, it turned out to be a very promising year. We became part of a renowned real estate group, one of the biggest players in this industry in Europe, and this change opened up new horizons, gave us more exposure, and provided us with enormous potential for growth," says country manager Fulga Dinu.
In line with the group's strategy, the company actively managed its assets and continued to improve their environmental performance, quality, and resilience. "We continued to expand our office brand, myhive, and at the same time we carried out various ESG compliant upgrades for other buildings. In the retail area, the figures show a return in revenues and traffic across all shopping centres, with values that in some cases have gone above those in the pre-pandemic period," Dinu notes.
Moreover, the real estate development company recently finalised two major refurbishment projects in the retail and office segments. The first one involved the upgrade of the VIVO! Baia Mare shopping centre, while the second was the completion of the refurbishment process of myhive Victoria Park office building. All these major achievements couldn't have been possible without a perfect mix between a strong and highly skilled team of professionals and powerful leadership.
"I have always counted on the people I work with, so mutual trust, honesty, and loyalty are all at the core of our relationship. I tend to be very close to the people on my team, by always approaching them with a smile and a positive exchange, asking about and understanding their concerns and needs, consulting with them and respecting their opinions as professionals," Dinu says, adding that her leadership style is fully centred on motivating and bringing the best out of the people on her team.
"Every chance I get, I mention the fact that I have the fortune of being surrounded by a wonderful, fully dedicated team of professionals whom I deeply respect and of whom I am very proud. I also make sure to always emphasise the values that I've developed since childhood, as they guide my life: truthfulness, kindness, and respect for everything and everyone." Fulga Dinu also believes that a good leader should have a decent sense of humour and be able to provide relief in stressful situations. "Assembling and maintaining a motivated and well-prepared team, with good work ethics, dedication, and motivation will guarantee the success of any organisation, and I think it is my job to safeguard these values," the CPI Romania country manager concludes.