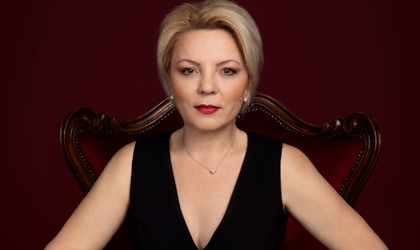 With medical training and 20 years of experience in the healthcare field, in both the pharmaceutical and medical services sectors, Dr. Claudia Oanea, the managing director of Siemens Healthineers Romania, took charge of the company in January last year and has managed to uphold vigorous growth while overseeing a business transformation process.
By Anda Sebesi
2022 was a year of transformation and reinvention for Siemens Healthineers, as the organisation went through a series of major changes. The company saw many retirements of professionals who had been with the company for up to 30 years, and at the same time welcomed even more new colleagues. "This meant a generational shift, fresh air, new experiences, and new opinions, but at the same time we had a desire to preserve the organisational culture that preceded us. Along with these transformations, we also had to adapt to market changes and upgrade our traditionalist and conservative strategy to one that was open and dynamic. It was not an easy thing to do. We must also look to the future, anticipate what will come next, and prepare accordingly," says Dr. Claudia Oanea, the managing director of Siemens Healthineers Romania.
The healthcare sector is a challenging field in itself, and it is going through a period of transformation, reorganisation, and rapid development. "The words we use to define ourselves are: 'We pioneer breakthroughs in healthcare. For everyone. Everywhere!' And this is challenging! Because the biggest test is whether you manage to be there, 'for everyone, everywhere.' Both last year and this year, as well as in the near future, we will be dealing with plenty of challenges because the system's transformation is not going to happen overnight," Oanea argues, adding that the biggest challenge last year had to do with equipment delivery times. "Both the pandemic and the war in Ukraine impacted delivery terms and, implicitly, the costs. However, as leaders on the market, we have proven once again that we can always find solutions that keep us one step ahead." The company works to find solutions to three of the biggest challenges usually faced by healthcare providers: creating a world without the fear of cancer, meeting patients where they are, and caring for those who care for others. And just like in any other business, performance can only be achieved by demonstrating true leadership.
"Leadership is about people, first of all. I would describe myself as a democratic leader, a leader of the people. I strongly believe that without your teams, you cannot exist as a leader. This is because a leader no longer exists as an individual. You become the voice of the organisation, of the spirit within a team. You set the rhythm, tone, and direction, but equally you must give freedom. You have to explore and exploit the best and most creative parts of each person, give up any prejudice, remain objective, and be aware of the needs of your people. You are responsible for creating that symbiosis within the organisation, where people understand each other just by making eye contact, where they know that creating and developing exceptional things is only possible if they work together."