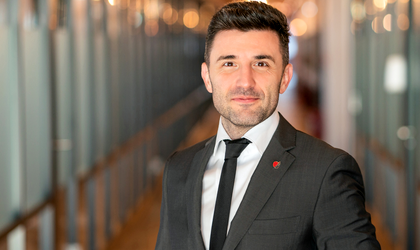 Ranked first on the Bucharest market and second nationwide in its field, CreditAmanet saw its business thriving last year despite a difficult economic context. Cosmin Popovici, the company's CEO, believes that the success of the business he runs is primarily generated by its people.
By Anda Sebesi
For CreditAmanet, a company with 15 years of market experience, last year was defined by a transition to a new and superior stage of development, as it turned into a joint stock organisation. "I believe that transparency is the most valuable asset that such a transformation brings," says Cosmin Popovici, the CEO of CreditAmanet. The company offers pawnbroking and currency exchange services and manages the most diversified trading platform for precious metals, electronics, jewellery, and luxury goods through the Digital Sale and Eurocredit Exchange companies. Currently, CreditAmanet has the most advanced portfolio of products and services on the Romanian market. With more than 130 employees across 25 branches nationwide, CreditAmanet has so far served over 2 million customers. In 2022, the company reported a 30 percent increase in turnover and thus remaining on a rapid growth path.
The expansion of its activities in the e-commerce segment was another major achievement for CreditAmanet last year. "We are the largest retailer of pre-owned luxury products on the Romanian market, but we also have customers from other countries. We are happy to provide a solution for those who want to avoid the long waiting lists of famous manufacturers of luxury watches and bags. At the same time, we have identified our customers' need for safe, profitable investments, as well as responded to changes in consumption patterns for luxury products: while customers are not giving up on their preferences, they do want to spend less. This represents a global trend, and CreditAmanet has been rushing to comprehensively meet this demand," Popovici explains.
He adds that investments in digitalization are to continue this year, as they open up new perspectives in customer relationship management and support the company's expansion. As is true for many other companies operating in Romania, the most notable challenges faced by CreditAmanet last year were generated by the war in Ukraine, which caused uncertainty for both consumers and businesses, as well as by the high inflation. "CreditAmanet has successfully overcome these obstacles and managed to generate economic growth and show stability even in these dire circumstances. The company's solid structure – diversification across three business lines – tipped the balance in our favour in a rough global context," Popovici notes.
In his view, being a leader doesn't just mean being good at setting directions, aligning with the organisation's objectives, mobilising teams, connecting with stakeholders or managing personal effectiveness, but being great at integrating all of these responsibilities simultaneously."You need to be able to balance everything together. I also believe that leadership is not a formula; it is a very personal process that you have to be ready for. I like to consider myself a strategic thinker and a pace-setting leader. But most importantly, I think CreditAmanet's growth is not about numbers, but about its people."