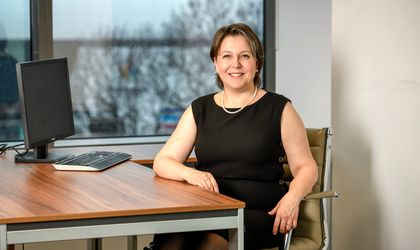 Cristina Mancas, HR Vice-President SEE at Schneider Electric, tells BR that 2022—when the company celebrated 25 years of operations on the Romanian market—was full of initiatives that focused on improving the employee experience.
By Anda Sebesi
How would you describe your HR policy?
Romania is one of the most important, longest standing subsidiaries of Schneider Electric in South-East Europe. We have many positions that service more than one country, as we coordinate three countries from Bucharest, and we have a team of global internal communicators right here in our headquarters. We are in touch with the entire world of Schneider Electric every day. So, naturally, our HR policy is a very digital, very global one.
We tend to practice what we preach, so as a champion of digitalization and sustainability, we offer global, digital talent platforms for our colleagues to learn and develop. We also create and implement local projects that are aimed at creating a vibrant organisational culture. We have a lot to catch up on after years of working from home and we want to do that in a meaningful and useful way.
What were the main initiatives the company dedicated to its employees last year?
Last year was an anniversary year for us, so a lot of our initiatives had to do with this celebration and rewarding the loyalty and the long-term careers of our veteran employees. Apart from that, we also wanted to make it worthwhile for people to return to the office, so we organised a lot of events to restore our cooperative, open, and friendly organisational culture. From team sports to informal breakfasts with the management, we encouraged people to find the pleasure of meeting in person again, with no screen between them.
What is your strategy in terms of attracting and retaining talent in your company?
We've teamed up with technical and non-technical universities in several cities around the country and developed internship programmes for their students, at both graduate and undergraduate level. We are a traditional participant at annual job fairs organised by academic institutions. Last year we took part in POLIJobs, the fair hosted by the Bucharest Polytechnic University, as well as in other prominent professional job fairs around the country.
Our internship programmes are substantial and comprehensive and they usually end in job offers for the best and most dedicated performers. We believe in the energy and ingenuity of the young generations and, based on our 25-year track record in Romania, we know that our organisation has a lot to offer. We have colleagues who have been with us for 10, 15, even 25 years, with strong careers and many professional achievements and today, in the age of digitalization, being an energy management and automation company positions us on the frontlines of technology and sustainability, which adds to our desirability as an employer.
3 HR challenges for the energy management and automation sector in 2023
The recruitment of specialised professionals;
The development of relevant career enhancementprogrammes & benefits packages;
Retention.