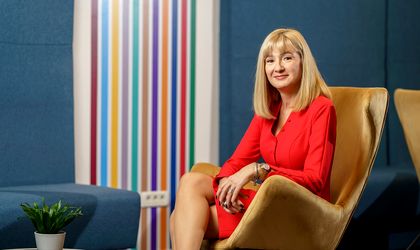 Rodica Rapcea, HR Director at METRO Romania, sat down with Business Review to talk about the company's HR policy and how it has led to the success of the leader in wholesale trade in Romania for over 25 years.
By Anda Sebesi
How would you describe your HR policy?
HR has become a real priority for METRO Romania in recent years, and we have made multiple changes in terms of the structure of the HR team, with new roles established or developed, especially in areas like employee training and well-being. All of our company's initiatives, both local and international, have led to us to receiving the Top Employer certification on the Romanian market for the past three consecutive years.
Our strategy for attracting new talent and retaining our people also includes the process of redefining the employer brand. We strongly believe that in order to build a strong employer brand, you must first prove that you are a Top Employer. Our regular engagement measurement surveys show a high engagement rate among our teams, demonstrating that our efforts to build a positive employee experience, from recruitment and onboarding to off-boarding, are highly appreciated by our employees.
What were the main initiatives the company dedicated to its employees last year?
We have developed and implemented several initiatives, namely: the digitalization of internal processes, internships, internal training platforms being made available to all METRO employees, offering training programmes at chosen locations, as well as wellbeing and consultancy programmes. We have also invested in lunchrooms and recreational corners for our colleagues.
We have acknowledged the importance of flexibility as an essential resource in our learning and development strategy, both professional and personal, to best meet the different needs of our colleagues. We have continued to develop and refine programmes to improve leadership, sales, and customer orientation skills, as well as the functional skills of our employees.
What is your strategy in terms of attracting and retaining talent in your company?
It's important to create the best environment for them to work in, develop professionally, and feel appreciated and valued. Tools for recognition, professional and personal development, and wellbeing are important elements that generate employee satisfaction and motivate them to get involved in the company's development.
Both locally and internationally, we run long-term structured talent development programmes in various spheres of our business, including blends of multiple learning modalities, in which experiential learning is paramount. The benefits take various forms: a sense of personal development, the facilitation of professional (including intercultural) connections, team cohesion, and a sense of belonging.
Benefits and compensation packages are important in the hierarchy of employee preferences, and they are linked to the company's business objectives and market trends. This is a mechanism to attract, motivate, and retain candidates, leading to improved team performance and organisational results. METRO provides its employees with a generous list of benefits like meal vouchers, private medical insurance, extra days off for various occasions, access to psychological, financial, and legal counselling for the employee and their family, bonuses granted on holidays and other occasions, gifts for children, discounts on medical and sports subscriptions, and special conditions negotiated with banks in Romania. The company also offers several special bonuses, for holidays, loyalty, employee referrals, and retirement, practically covering the entire employee lifecycle.
3 HR challenges for the retail sector in 2023
Employee retention;
With the rise of Gen Z as the new workforce, we are doing our best to secure a new generation of personnel;
The adaptation to the hybrid working style will continue in the coming years, and identifying solutions to support employees' work-life balance, as well as developing projects to increase their long-term commitment, will remain top objectives.