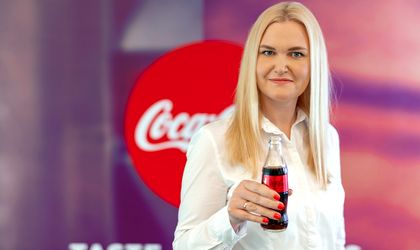 Studies show that people tend to stay at an organisation for their line managers, for the fruitful, energising, and inspiring relationships they develop with their colleagues, and for an enjoyable and inclusive work environment. Irina Firstova, People and Culture Director at Coca-Cola HBC Romania, sat down with Business Review to discuss the company's HR strategy.
How would you describe your HR policy?
We are a growth-focused consumer packaged goods business and a strategic bottling partner of the Coca-Cola Company. Across our organisation, colleagues either sell or help to sell, and they represent our key asset. In the current environment of ambiguity, crisis, and turbulent market conditions, it is more important than ever that we stay resilient and closely connected to our teams. Our HR policy is built on three key pillars: retaining our people, driving a culture of simplicity and collaboration, and building diverse teams, aiming for gender balance across the organisation. In light of the 2025 sustainability targets, we are happy to have already reached the goal of 50 percent of management positions being held by women in Romania, last year. We've also launched a global "Women In Leadership" programme; 80 women in our workforce have taken part in it, of which 10 were from Romania.
What were the main initiatives the company dedicated to its employees last year?
A Group-wide initiative launched in 2022, Project Oxygen, aims to reduce bureaucracy, simplify processes, and allow more time for value-adding tasks. We also implemented a Group-wide organisational structure redesign, Project Dolphin, with consistent but modular functional frameworks. This ensures we have a consistent structure—with some local modification when needed to best serve customers locally—while prioritising capabilities that are critical for future growth. To fuel agility and ensure success in critical areas, we introduced a new, dynamic structure called Dynamic Pods.
Amid the rapid pace of change, in 2022 we introduced pulse surveys as a permanent part of our internal communications. This helps ensure that management teams really understand what our people need to succeed. We conducted two all-employee surveys in 2022. Our Employee Engagement Index score, the outcome of our annual engagement survey, remained steady at 90 percent, and we continued to benchmark our employee engagement against other high-performing companies, partnering with Qualtrics. We also initiated the "Impactful Leader" programme, where inclusive culture is the key topic, and introduced the "People come first" concept, starting with basic people skills. We view mental health as an important part of employee wellness and we are equipping our people with tools to recognise and address mental health issues and early signs of burnout. In this respect, we facilitate access to our Employee Assistance Programme, which provides 24/7 confidential support for our people and their families. We have also rolled out a series of webinars and informal talks within ParenTEAM, our community dedicated to all parents at Coca-Cola HBC Romania.
What is your strategy in terms of attracting and retaining talent in your company?
We are proud to be the most attractive FMCG employer in Romania, according to a bespoke talent market survey conducted by Universum in Europe. Our reward strategy seeks to promote a growth mindset and reinforce desirable behaviours, ensuring that employees are fairly rewarded and that their individual contributions are linked to the success of the company. We aim to promote people from within the organisation. We also provide unique opportunities for cross-functional moves, mentorship, world-class leadership programmes, and multi-channel experiences, which complement our people's career journeys.
3 HR challenges for the FMCG sector in 2023
Retention, as turnover in critical positions results in knowledge and productivity loss;
Process simplification;
Attractiveness of consumer-packaged goods companies as an employer of choice.