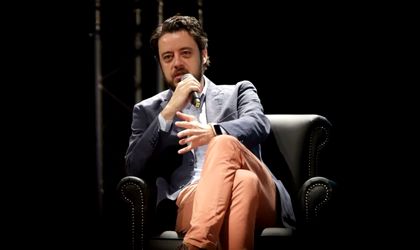 What blockchain technology does very well is reduce coordination cost, said John Lilic, director for Business Technology Development, Strategy & Operations at Consensys, at MindChain, Business Review's flagship event of 2019 and the biggest event focused on blockchain and AI ever held in Romania. But cutting costs is not the only thing blockchain does; another very important part is that the technology can bring trust between people all around the world and make the exchange of ideas and wealth easier.
"What blockchain does really well is reduce coordination cost. It makes collaborative models function much better. For instance, let's say I started a company and you are a talented professional who wants to work for me. One of the things we can do is for me to give you a part of my company, like shares for example. Now, if the company is in the USA and you are in Europe, we have to get lawyers involved, so coordination cost gets very high," said Lilic.

"From a collaborative perspective, if you look around here in Romania, where you have a lot of talented young people, particularly the ones in IT, who are looking to collaborate globally. But Romanians are also careful and suspicious because there are a lot of things happening in different parts of the world, so there is a lack of trust that people will do what they say they will do. In some ways, with blockchain and the convergence of really smart analytics and lots of big data and machine learning applied to that data, people here will have the ability to very efficiently collaborate with others around the world. It will be really easy for meaningful collaboration with other markets for Romanian contributors."
John Lilic says that this is a global trend as well and a hyper-efficient collaboration and trust model will develop. "Service agreements, transfer of ownership and other processes will become much easier," says Lilic.
"What blockchain brings is a really smart data and you can verify the integrity of the data and you can trace the data – that is a very important part of the process. Now we have smart machine learning that inspects and analyses that data and draws conclusions. It is a incredible framework that is very important for developing markets."
While this is just the short-term impact, talking about the long-term, Lilic says that things will change a lot.
"In the long term we have to get very good at embracing the weird, because things will get very weird. Many variables can be changed and will be changed. So, the difference will be made between those who embrace the new and those who are more orthodox and only want the linear process. You can make a use for the blockchain in the media for example, to be able to trace news to their origin, which is great when fighting fake news, for example.

In a variable world, where everything is changing, it is really valuable to have that permanence and clarity around a particular piece of data. People will be able to build militias, a thing that was reserved only for states and institutions in the past, and conflicts will take place between different networks. We are headed towards a world where conflict is going to look different, truth is going to look different and data integrity will be very important. This is an example of why blockchain has value."