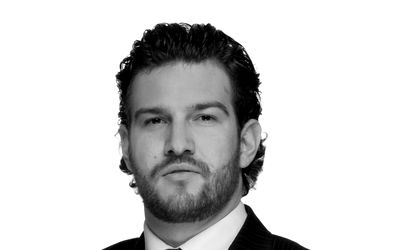 Thierry Arys Ruiz is the Founder of AgAu.io and TARCO International, two commodity trading and technology-focused companies in Switzerland. Thierry is a MENSA member and has dealt with topics ranging from education to finance and Blockchain.
Thierry will be a speaker at MindChain, one of Business Review's flagship events of 2019 and the biggest event focused on blockchain and AI ever held in Romania, taking place on February 21-22 in Cluj-Napoca. 
What are the main problems you see with our current financial system and how do you think it might change in the next five to ten years?
There is a systemic risk in the financial system: As Ray Dalio explains in his newly published book "Big Debt Crises", the long term debt cycle and short term business borrowing cycle are coming to an end at the same time. We are now facing a potential massive deleveraging.
In my view, the main challenge of our modern time is to redesign the financial system from scratch starting with the bedrock of redefining what money is. We also need to learn from the past. In hindsight, since 1971, when US president Nixon "temporarily suspended the convertibility of the US Dollar into gold", the monetary mass has expanded in an unprecedented fashion.
Global debt has reached unsustainable levels and central banks have very few conventional tools left. One can fear the implosion of such a system. Having this into perspective, the reflexion should not be focused so much on the imminent collapse but on tackling the source of the problem. AgAu aims to do exactly that.
Cryptocurrencies still seem to be a niche interest and many are skeptical due to concerns like fraud and high volatility – how can more people be attracted to invest in the new DLT-based system? Where should they start if they want to learn about it and get involved, since it can be a very complex topic to approach?
I see the "crypto winter" as a healthy purge of cryptocurrencies. Despite this, applications of enterprise Blockchain/DLT technology vary and have a promising future. There is some work to be done from entrepreneurs to demystify the technology and simplify its mass adoption. It is clear that the technology is here to stay and even though we have seen bubble-like reactions I am confident that in 10 years' time, the world's top 10 companies will be using blockchain technology.
Tell us a bit about your company, Tarco International and the AgAu.io project.
TARCO International started in 2017 by being involved in Commodity Trading and technology consulting. AgAu is now the main entity where we are focusing all the work, building what we describe as The Peer-to-Peer, Electronic Money System backed by Ag(Silver) and Au(Gold).
"Soft skills are so far harder to replace by AI, therefore I believe women will take a better part of our economy in the future."

 
How can blockchain help governments become more efficient or improve democracy? For example, do you think we'll see a blockchain-based voting system implemented in a country anytime soon?
I am actually working on a side project called Meritocracy.ngo – it is still at a conceptual level, but I have no doubt that the Swiss democracy system can be migrated to the Blockchain relatively soon before it gets exported somewhere else.
In your experience, have governments been resisting technological changes that would make them more transparent?
Unfortunately the majority of governments govern and do not serve their citizens well. There is often an issue of transparency when it comes to managing power. One of the problems is that certain governments would delay technological progress under the premise of protecting their constituencies.
While trying to protect people against themselves, governments usually step into the boundaries of personal and economic freedom. The second major tragedy is that many people judge policies by their intentions rather than their results.
How should companies in various industries use blockchain to improve their processes and what are the potential issues they may encounter? Do you have some examples of businesses that have used blockchain or AI in innovative ways?
Blockchain applications can fit an infinite variety of business models. The challenge is to correctly apply the technology to really create value. Adapting to the technology can be a disruptive process but in the long run, if done right, the whole society can greatly benefit from it. Automatic logical tasks can now be replaced by smart contracts and AI. Many of the hard skills such as  logical-mathematical knowledge which were valued in the past are being taken over by people creating AI systems essentially pushing themselves out of the job. Soft skills are so far harder to replace by AI, therefore I believe women will take a better part of our economy in the future.
As an example, in our case we find many benefits by having a distributed, immutable and secure system. It allows our business to provide a greater layer of trust and security to our customers by:
Guaranteeing direct ownership of gold and silver (ownership title on the blockchain)
Allowing liquidity and divisibility to a hard asset (decimal trading)
Providing encryption security for every transaction (Cryptography)
Give full transparency of our operations (Audit and inventories on the blockchain)
We aim at building a more robust and trusted system solving a fundamental problem with the same philosophy intended by the bitcoin creators by re-establishing a superior form of money and a true alternative to fiat.
Over two days, between 21-22 February, in Cluj-Napoca, MindChain will explore the interaction between Blockchain and Artificial Intelligence (AI).
The key proposition, reflected across the entire agenda, is that AI powers and enhances one of the most revolutionary technologies to have emerged in recent years.
With a 30-strong panel agenda featuring international speakers and key figures on the Blockchain scene, MindChain will bring forward the latest use cases for Blockchain and AI across a comprehensive mix of industries, such as retail, finance and banking, real estate, transportation, as well as emerging areas such as art, entertainment and media.
Through its architecture, MindChain is designed to attract a varied audience, from blockchain investors and professionals to startups, students and the general public interested to discover how these new technologies will shape everyday life.