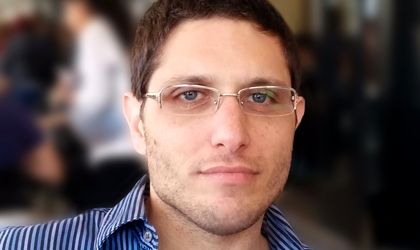 On Yavin is the founder and CEO at Cointelligence, the data layer for the crypto economy. He has extensive experience as a serial entrepreneur and an angel investor, as well as more than 20 years of experience in the tech industry. On uses his deep hands-on experience and knowledge of online marketing to create winning strategies for ICOs, crypto, and blockchain companies. Having earned the reputation of crypto expert, On continues to contribute to this industry in ways that advance cryptocurrencies and blockchain technologies. On will be a speaker at MindChain, one of Business Review's flagship events of 2019 and the biggest event focused on blockchain and AI ever held in Romania, taking place on February 21-22 in Cluj-Napoca.  
Business Review talked to On about the latest trends in the cryptocurrency space, the future of blockchain and the ways in which these concepts could disrupt some of the biggest economic sectors.
What led you to get involved in the crypto world?
A friend of mine told me about cryptocurrency and the blockchain in 2017. I immediately saw how much possibility it had and decided to dedicate my life to it. Since establishing Cointelligence to serve the crypto community, I've travelled all over the world to speak about cryptocurrency and educate people about the blockchain.
What is Cointelligence and what does it do? How do you rate ICOs, STOs and exchanges and what other useful tools do you offer? How big is your team?
We call ourselves "the data layer of the crypto economy." Essentially that means we're dedicated to providing the community with the data they need to understand both the economics and the technology surrounding this new industry.
Our ICO and STO ratings are performed by an anonymous team of experts, and then checked by a supervisor and our head of research to ensure everything is both correct and unbiased. We have a clear set of metrics that we rate every project on, which makes our ratings easy to understand. We've decided to use this same approach for rating exchanges, though obviously some of the metrics are different.
In addition to our rating systems, we provide a regularly updated list of crypto events, up-to-date crypto prices, daily bitcoin price analysis, and a blog that serves as a platform for guest opinions from thought leaders in the crypto industry, among other things.
There are 15 team members working for the company at the moment.
Tell us a bit about Cointelligence Academy. Which universities are you working with and how much interest is there among students to learn about crypto and blockchain?
There's enough interest that we had to keep stressing that we could only offer Cointelligence Academy in the UK! We had students from around the world submitting requests for us to offer our cryptocurrency and blockchain education at their university. Essentially, the Academy will consist of classes about crypto and the blockchain. So far we're working with South Bank London University and  Warwick University and we are communicating with 3 other universities – hopefully they will agree officially next week.
Why have ICOs been losing ground to STOs and what are the main differences between the two?
ICOs have been losing ground because of a lack of investor confidence. In addition to the numerous outright scams, too many ICO projects simply failed to deliver on what they promised. The primary difference between ICOs and STOs are that ICOs were based on utility tokens (even if they were sometimes marketed as securities…), whereas STOs are registered as securities. There's a lot more to it than that, but that's the short answer.
Do you think cryptocurrencies and blockchain technologies in general will soon be adopted on a massive scale and transform the financial sector and others? What's still missing for that transformation to take place?
I think mass adoption is inevitable, but first governments are going to have to figure out how to regulate them, and there's going to be a lot of debate between regulators, large institutions, and the crypto community on how to do that. But we're already seeing a lot of banks and other institutions registering patents for methods of using the blockchain in their industry, so the interest is there. We just need to get them to trust cryptocurrencies as well.
Where should somebody start if they want to learn about crypto, blockchain and related topics?
Well, of course I'd like to invite anyone who is interested in crypto and the blockchain to visit Cointelligence and read a few of our guides! And if they're in the UK, they should attend one of our Cointelligence Academy sessions. Otherwise, a good place to start is to look for events in their area – meetups are a great way to connect with the crypto community, and it's not unusual to see classes and seminars about blockchain technology being offered at an affordable price. Between the internet and local events, there are so many resources available for anyone who is willing to educate themselves.
Over two days, between 21-22 February, in Cluj-Napoca, MindChain will explore the interaction between Blockchain and Artificial Intelligence (AI).
The key proposition, reflected across the entire agenda, is that AI powers and enhances one of the most revolutionary technologies to have emerged in recent years.
With a 30-strong panel agenda featuring international speakers and key figures on the Blockchain scene, MindChain will bring forward the latest use cases for Blockchain and AI across a comprehensive mix of industries, such as retail, finance and banking, real estate, transportation, as well as emerging areas such as art, entertainment and media.
Through its architecture, MindChain is designed to attract a varied audience, from blockchain investors and professionals to startups, students and the general public interested to discover how these new technologies will shape everyday life.