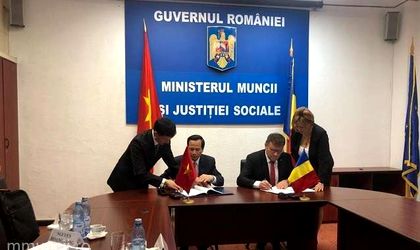 The Romanian government is trying to reduce the workforce crisis in many areas of the economy by importing foreign workers, and has just signed a memorandum with Vietnam in order to receive more Vietnamese workers.
The memorandum was announced exclusively by BR at the end of October.
The Vietnamese minister of Labour Dao Ngoc Dung visits Romania and signed the memorandum between the two countries together with the Romanian minister of Labour Marius Budai.
The memorandum offers protection to the Vietnamese citizens working in Romania.
"There are around 3,000 Vietnamese citizens working on the territory of Romania, who are pleased with both working conditions and salaries," Dao Ngoc Dung said.
Last month, the Romanian minister of the Business Environment, Commerce and Entrepreneurship Stefan Radu Oprea has visited Vietnam and signed two memorandums regarding SMEs and investments.
Romania is very interested in attracting Vietnamese workers in order to limit its severe workforce crisis.
"The companies in Romania are interested in bringing Vietnamese workers mainly in areas like construction, tourism or agriculture," minister Stefan Radu Oprea told Business Review in October.
"Foreign workers could help in areas where there are no available workers," he added.
This is part of a larger strategy aiming to support work occupancy in Romania that includes helping local workers to find jobs, and stimulating Romanians working abroad to return home.
But Vietnamese workers are already present in Romania and their number is growing fast.
Last year, the main countries of origin for the foreign employees which obtained employment permits were Vietnam (1,406), Turkey (669) and China (566).
The number of employment permits issued by the General Inspectorate for Immigration surged 70 percent in 2017 against the prior year, to 4,977.
Official data show that the total number of non-EU foreign employees in Romania – permanent and posted workers – was 17,089 in July 2018, an all-time high.
Business Review recently showed that Finacantieri's Tulcea and Braila are importing workers from Vietnam due to local workforce shortage.
At this moment, around 450 Vietnamese workers are working in Vard Tulcea and 70 in Vard Braila, and another 60 Vietnamese will arrive soon.