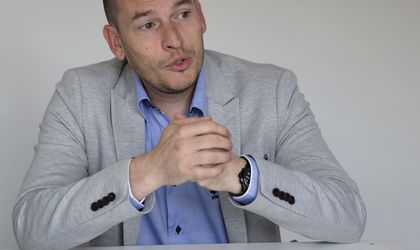 Wizmo.ro is one of the latest players to enter the Romanian real estate market. The online property platform, created by a group of Belgian investors and developed by a Cluj Napoca-based IT team, launched this June. It caters to individuals who want to rent or sell a property, property owners looking to either sell or rent, and agencies.
Georgeta Gheorghe
With a portfolio covering the residential, office, commercial as well as the agricultural and industrial segments, Wizmo.ro enters a market where, according to Wizmo.ro CEO Maarten Deboo, there is room for actors who have the potential to make a difference.
In an exclusive interview for Business Review, Maarten Deboo spoke about the opportunities for growth offered by the Romanian market and how newcomer Wizmo.ro, backed by a EUR 500,000 investment, aims to become a relevant actor on the Romanian real estate market.
You have just launched the beta version of your online platform, wizmo.ro. What is your timeline for the project?
We will most probably stay in Beta until the end of the summer. There are two main reasons for this. First of all, because we have planned some feature releases, which we would like to test and stabilize and secondly, because we are collecting feedback. We are in this testing phase, in which we invite end-users who seek for a property, users who want to rent or sell the property they own, as well as agencies to test Wizmo and tell us their opinion. We know that time is precious and most people are too busy to submit a form, but the feedback that we do get is very valuable for us. It helps us concentrate our efforts on improving Wizmo based on user reviews, so that Wizmo can become the platform our users need it to be.
What is your connection with Romania and why did you choose the Romanian market? What is your experience with the real estate market in Belgium? Can you tell us something about your background?
We are a group of investors and we have been active in Romania already for some years. Some of my colleagues have experience with real estate investments worldwide, including Romania, while some of us are active in software and product development in Belgium and Romania. Wizmo is a product at the intersection of these two domains.
We chose the Romanian market after we had thoroughly researched the current situation. Romania is on a positive trend, economically speaking. Also, the urbanization of the main cities is determining the growth on the real estate market, both office and residential.
When it comes to existing platforms, what we have found, after the research we conducted, is that there are some important players on the market, but the real estate market is local and fragmented and is hard for one player to be good at everything. Consumers research across multiple online and offline sources, they are not really loyal to one platform, they don't care what tool they use for their home search as long as they can find what they need.
The main real estate platforms in Romania register important traffic, but the looks and usability of these websites can be improved still in the interest of end-users.
Online real estate platforms (marketplaces) are both useful for consumers and real estate agents, so this means that they will be important players in the real estate ecosystem in the future too. The market is crowded, but there is room to do things better. So, with Wizmo we decided that if we join our forces we have the necessary experience to build a real estate platform that can become one of the main players in Romania.
You chose a Cluj-based IT team for the development part of your platform. What draws you to the city of Cluj?
We have been lucky to work in Cluj with a team of Romanian programmers, who have proven to be very professional. Cluj-Napoca is an important hub for software companies, there have been many investments in the last years and the request for developers is very high at the moment, which makes the hiring pretty challenging, but it also implies that the programmers have the proper environment in Cluj to learn, evolve and deliver quality.
What does wizmo.ro bring new to the Romanian market?
Wizmo is a real estate platform where the request meets the offer, it is a website where owners and real estate professionals advertise their offer and where users can find the property they are seeking for.
We are aiming for a user-friendly website, in which you can easily find what you are looking for and you can make an informed choice. We introduced some features that encourage transparency, such as a rating system, plus we are offering better quality listings that take into account several factors. The more detailed the information and the photos of a property, the better the ranking of that property becomes. This translates into better quality leads for the agencies and less time wasted with visits to locations which are not actually interesting for the end-user. We also developed a messaging system which helps users to keep their conversations in one centralized location. All in all, we struggle to give a better user experience to all our customers.
You cover a very wide category of segments, such as the residential, office, commercial as well as the agricultural and industrial segments. Will your growth strategy focus on one or more of these?
Our objective is to create a user friendly platform, user-centered, that will help anyone interested in real estate to successfully buy, sell, or rent. Our aim is to become the go-to source for everyone involved in real estate transactions. With this objective in mind we plan to focus on developing property detail pages and filter options adapted to the main types of properties that are listed on Wizmo.
Do you plan to attract additional investors in this project? Do you have an exit strategy?
Our plans for the future period are to constantly improve Wizmo, from a user experience point of view and to attract as many users online. We have elaborated a business development strategy for the following year and we have just started implementing it and we intend to put all the necessary resources and effort into building up Wizmo.