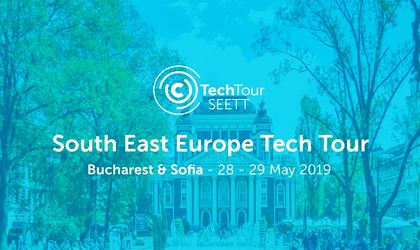 Three Romanian technology start-ups are on the shortlist of projects presented at the second edition of the South East Europe Tech Tour 2019 event, held from 28 to 29 May at Bucharest and Sofia. Of the three Romanian companies waiting for investors, two (Jobful and Smart Dreamers) presented online recruitment platforms for companies, and the third (SymphoPay) is a platform for integrating payments with the POS card.
"Tech Tour is a two-day business event that aims to promote innovation and investment in the best technology start-ups in the region. Today there are 30 start-ups on technology, which are the companies that have had the highest score in the selection process and have covered areas such as blockchain, mobility, energy, agriculture. Tech Tour brought to Bucharest the largest and most active investors in the southern region Croatia, Hungary, Moldova or Romania. There will be another day of the event on Wednesday, in Sofia, where the same thing will happen in Bucharest, the selection process lasted about a month and the committee selected from 150 start-ups, a total of 30 projects presenting their technology products to 40 international investors active in South Eastern Europe, as well as local, regional investors. In the two days of the event, the start-ups will stay in touch with the investors here to raise funds for their companies. The funds are vital for the development of companies, especially for Romania," said Cristian Moldoveanu, one of the organizers of the Tech Tour 2019.
Southeast Europe is recording one of the biggest economic growth, with countries in the region having solid entrepreneurial ecosystems that have generated more than USD 5 billion for investors in recent years.
The start-ups selected have the highest score in the selection process and will cover six technology sessions at the event: Deeptech, Blockchain, Fintech, Mobility, Energy and Agritech.
The selection committee consists of international investors and business leaders, including: Alexander Galitsky – co-founder and managing partner, Almaz Capital (USA) and Marius Ghenea, investment manager, 3TS Capital Partners (Austria).
SEETT 2019 is organized by Tech Tour with the support of the investment fund VC Almaz Capital.
Founded in 1998, Tech Tour is a unique international platform dedicated to innovative start-ups in the emerging and in search of investors and financing, from idea to success story. The platform supports IT entrepreneurs and their projects through access to the online tech community and over 25 networking events organized annually.