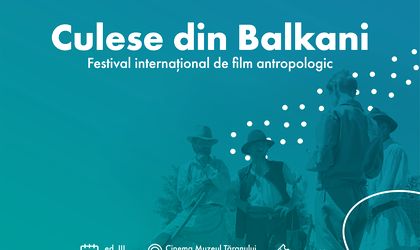 Collected from Balkans- International Festival of Anthropological Documentary Film, which reached the third edition, takes place from Friday until Sunday at the Romanian Peasant Museum, screening documentary films from Balkans ( Romania, Croatia, Serbia, Bulgaria, Montenegro) and out of Balkans (Brazil, New Zealand, USA, Germany, Iran, Norway, UK, Israel) made by directors, anthropologists, ethnologists, students and teenagers.
It is organized by the Romanian Peasant Museum, the Peasant's Club,  CEVA and COOPerativa Urbana.
The sections of this year are Balcanika, Ethnologica, AntRO, DocuForm, Student Showcase, Workshops for teenagers, Media Documentaries, Special events.
The festival comprises also special events: concerts, party, debates, stories and tastings. The entrance is free. The program can be found here.