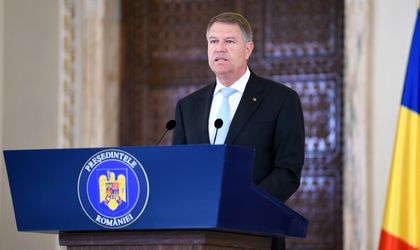 President Klaus Iohannis called for the resignation of PM Viorica Dancila for the second time in roughly two weeks, citing poor results in the economic area such as the reduction of the amount of taxes collected to the budget and the low absorption of EU funds.
UPDATE: A report by the Finance Ministry, published yesterday, shows that the state budget revenues in Q1 2018 were under the government's target (95.1 percent). It also shows that the VAT revenues targets were 91.4 percent fulfilled, while excise duties targets were at only 87.6 percent.
Klaus Iohannis had cited a series of missed targets in the budgetary execution: "Although prices have increased and they've reintroduced the fuel excise duty, collection by the fiscal authority is 12 percent under the target."
"Another example – European funds, where we're 37 percent under the target for revenues and 43 percent under the target for expenditures," added the president.
Revenues from profit taxes were at 95.2 percent of the target and represented 0.4 percent of GDP.
Revenues from property taxes reached 95.8 percent of the target, but dropped by 4.5 percent compared to Q1 2017.
Iohannis said that the ruling party PSD proposed "economics of magic" comprising a reduction of taxes and an increase of public spending for wages, primarily for wages. The president accused the left wing party of "pawning the future of Romania", adding that while Romanians pay higher prices, the state doesn't collect more in taxes.
"Overall, a totally unsatisfactory evolution of public finances. Dancila's resignation is of utmost necessity to make room for competent and responsible people, and on this backdrop it's becoming more visible that Dragnea and his team don't have any solution for a good and efficient governing," said Iohannis in a press statement.
The president went on to accuse the government of failing to steer investments towards hospitals, schools and road infrastructure.