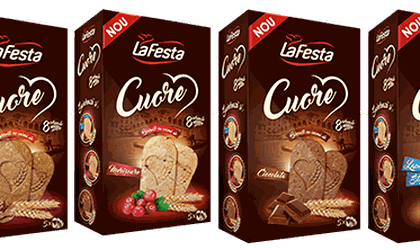 Ever since you are a child if you don't like something you have a reflex to put hearts on it. In childhood you were filling everything you liked with hearts, in adolescence you "loved" on the social networks and when you grew a little more, you started to create hearts with your hands every time you were full of happy moments. For the people that put soul in everything, La Festa launched the Cuore biscuits and FCB Bucharest told their story in a new TVC. 
By Romanita Oprea
"To be in the consumers' top preferences and, for many years, market leader, it can only be a joy that must be shared with a full heart. It was natural for us to think and create a product in which we would see ourselves and the consumers in. La Festa Cuore is a product inspired both by our colleagues who are working with passion for the La Festa brand, as well as by the La Festa consumers that live daily emotions, with all their hearts. Alongside a cappuccino, hot chocolate or 3 in 1 La Festa cup, the biscuits Cuore are completing the experience of the moments lived from the heart," said Mihaela Grelus, La Festa marketing director.
The teams involved in the project are:
FCB Bucharest: Sorina Borcescu – client service director, Delia Soare – group account director, Alina Stanciu – senior account manager, Stefania Dinu – account executive, Alecsandra Roman – head of Strategy, Claudiu Dobrita – creative director, Irina Tanase – copywriter, Irina Giuglea – art director.
dSTUDIO: Ducu Ion – production
La Festa: Mihaela Grelus – director marketing, Andreea Lupu – brand manager, Irina Prisnel – junior brand manager
Photo courtesy: lafesta.ro