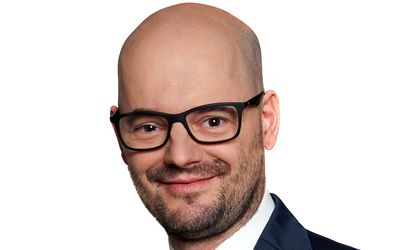 Karol Skiba, investment director of CVI, will speak during the 17th edition of Realty Forum, the leading Romanian real estate event organized by Business Review on June 19 at Sheraton Bucharest Hotel.
Skiba has been involved in investment underwriting of more than 130 commercial real estate (CRE) projects in CEE with total value of around EUR 5.5 billion as well as fundraising process with equity ticket of EUR 0.2 billion. The projects he was involved with ranged from office, retail, warehouse, hotel, residential through senior and student housing and private/public real estate companies. In the past Karol was worked for Irish based real estate fund with investment exposure into CRE assets across CEE region as well as for family office active in development and acquisition of standing retail assets in Poland. CRE career spans of more than 12 years of experience in CEE markets with further experience in Polish residential market of more than 3 years.
CVI is a private debt manager, based in Warsaw, Poland. CVI begun its operations in 2011 and quickly became the leader in non-bank debt financing in Poland and the region. Since 2012, CVI has closed over 700 corporate debt transactions (out of which 450 were in private debt) and invested over EUR 1.6 billion in CEE.
The company has currently over EUR 1.3 billion assets under management out of which estimated EUR 1 billion is invested in private debt in the region. The company plans to double that amount no later than by 2021. Since 2017, Romania is the second most important market for investments for CVI, right after Poland. Up to now, CVI has concluded three transactions in Romania – in July 2017 in IMPACT SA (EUR 12 million), in November 2017 in One United Properties (EUR 20 million) and in May 2018 in AAylex Group (EUR 25 million).
During Realty Forum 2018, around 200 industry professionals will get together for a half-day forum set to spot new opportunities and trends in the industry and act as a platform for new potential partnerships and unique networking opportunities.
The forum will bring together industry professionals and consultants alike to find out their take on how the market is evolving and their forecast on the segments promising the highest profits in 2018 and beyond that.