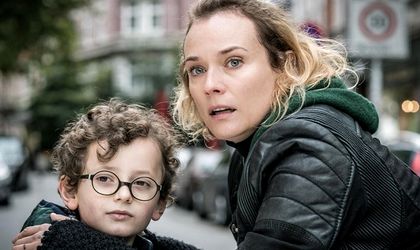 Diane Kruger gives a compelling performance as a mother living every parent's worst nightmare in this German Palme d'Or nominee, part family tragedy, part courtroom drama, part revenge thriller.
By Debbie Stowe
In a stylistically striking prologue, incarcerated Turkish drug dealer Nuri (Numan Acar) is cheered on by his fellow inmates as he heads for his oddly romantic prison wedding to Katja (Kruger) a free-spirited German. Fast forward six or seven years and the couple have swapped their edgy lifestyle for middle-class respectability: Nuri has an office job and Katja takes care of their winsome six-year-old son Rocco (Rafael Santana).
DIRECTOR: Numan Acar
STARRING: Diane Kruger, Denis Moschitto, Johannes Krisch, Ulrich Tukur, Samia Chancrin, Numan Acar, Rafael Santana
ON AT: Cinemateca Union, Europa, Grand Cinema & More, Cinema City Cotroceni
We sit through a series of fairly banal family scenes and innocuous shots, which are almost unbearable to watch as we expect disaster to strike at any moment. When it does, it is handled sensitively by director Fatih Akin; it's all over early on and the movie's main business is with how Katja responds to the atrocity that has ripped apart her precious little family unit. With such highly emotive subject matter, it would be hard to leave an audience unmoved, and the immediate aftermath of the incident makes for harrowing viewing, thanks also to a powerful yet astutely understated turn from Kruger. A bereaved mother could be played (justifiably) for high drama with frequent screaming and wailing, but the actor manages to convey just as much heartache and anger in looks and facial expressions.
Narrative wise, several directions are hinted at without being fully explored. Bitter family exchanges with grieving grandparents make for fraught viewing, but the relatives are soon dispatched: this is a journey that Katja must make on her own.
The incipient investigation into the crime also suggests that we might be in for a police procedural, but before that idea is expanded upon the suspects are identified with unexpected ease (an unlikely development that is explained later on).
Making up the central part of the story is the trial, where there is tension in the defense's strategy to derail the prosecution case, and Katja's exchanges with a relative of the defendants.
The final act, which centers on the protagonist's response to the trial outcome – while still gripping and dramatic – is the weakest part of the film, losing some of the narrative momentum and atmospheric tightness, and taking Kruger's character into territory that doesn't accord with the discipline of her impressive performance – which earned her the Best Actress prize at Cannes.
Another notable omission is any attempt to probe the psychology of the perpetrators: we learn their broad background and motivation, but Akin tells us nothing about what led them down that path or what they hoped to achieve by their act. The politics of this story are very much overshadowed by the personal.