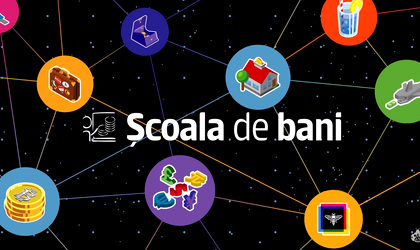 Scoala de bani, BCR's financial education project, was approved today by Guiness World Records as "The world's largest financial education lesson deployed in several locations", with 13,230 participants, mainly students in Romanian universities.
The event was unfolded in 61 education establishments, of which 24 universities, and it was held for 40 minutes.
Romania ranks last in the EU in terms of financial education, and only 17 percent of Romanians have saving among the priorities.
Formal constraints imposed by the purpose to validate the record have partially changed the lessons' education background.
Under the ordinary 'Scoala de Bani' program, run weekly in bank units with volunteer teachers to interested people, lessons are two times longer – about 90 minutes – and are organized in smaller groups of around 20 persons.
Participants in the lesson included in the Book of Records also received all the starting material for later use, after learning principles, rules and tips for managing personal finances, and at the end they passed a test.
Among the teachers were some members of the top executive management of the bank like Sergiu Manea, CEO, who taught ASE students, and Dana Demetrian, vice president of retail, who taught in Polytechnic univerity.
Employees from BCR's units across the country taught in local universities or high schools.
The category "The world's largest financial education lesson" was created in 2013 for PricewaterhouseCoopers (PwC) USA, which set the first record, with 5,624 primary school pupils attending courses in 18 Southwestern US partners and PwC employees.