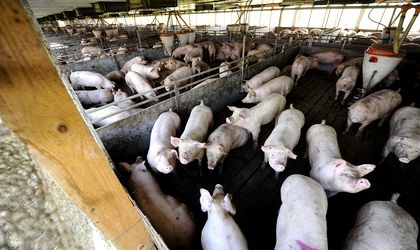 African swine fever is currently developing in 227 localities in 13 counties, with 927 outbreaks (11 of which in commercial farms) and 62 cases in wild boars, being eliminated altogether 311,869 pigs affected by the disease, informs the National Sanitary Veterinary and Food Safety Authority (ANSVSA).
According to ANSVSA, 5 outbreaks have been extinguished in Satu Mare County, where no new outbreak was recorded on 31 August 2018. 
Up to now, 3,142 owners have been compensated, the total amount of payments being RON 14.3 million.
The presence of the African swine fever virus in Romania was first reported on July 31, 2017, in Satu-Mare County.
"The evolution of the disease is constantly monitored through clinical and laboratory examinations, and the existing situation is analyzed on a daily basis, measures are being implemented and actions are taken as a function of the circumstances. The actions of the authorities are conjugated and undertaken to effectively manage outbreaks of disease in order to to dispose of them as soon as possible and to prevent the spread of the disease Any suspicion of disease should be immediately announced to the veterinarian or the county DSVSA. All suspect animals must be sacrificed and neutralized and the owners will be compensated by the state under the conditions stipulated by the legislation, "ANSVSA officials stated.