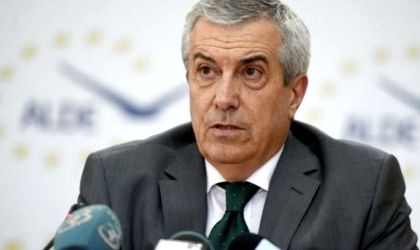 Senate president Calin Popescu Tariceanu said on Wednesaday that the "greed tax" on bank assets introduced through Emergency Ordinance (OUG) 114 may be delayed through another OUG or changed in other ways so as to have less of an impact on the banking sector, Mediafax reports.
"We haven't discussed this in specific terms, but we will (…) there is a possibility that the date of enforcement of the OUG could be delayed," said Tariceanu.
He also added that the Parliament was also looking into an alternative solution to establish the ROBOR money market rate, which would lead to a change in the way the new bank tax is calculated.
"We had a long discussion with central bank (BNR) representatives yesterday and we went over several aspects regarding OUG 114's ROBOR-based tax. The first element is the fact that the macroprudential oversight committee made up of BNR and Finance Ministry representatives are looking into alternative solutions of establishing the ROBOR rate. One solution could be for the ROBOR to be calculated based on the average transactions conducted during a certain period. The Committee will also find out whether there are better solutions. (…) It was also suggested that we could accept a tax only on certain assets, and based on the difference between the loan interest rates and the deposit interest rates," Tariceanu said.
Central bank governor Mugur Isarescu and the entire BNR Administrative Board were at the Parliament on Tuesday for commission hearings. Isarescu said that the inter-bank market is "essential to supply the Romanian economy with liquidity, to pay salaries and balance the foreign currency market."