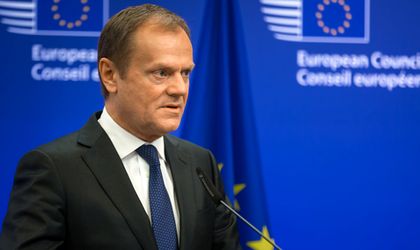 European Council President Donald Tusk will offer the UK the possibility of a 12-month "flexible" extension to the Brexit date, also being called a "flextension", according to EU sources cited by the BBC.
UPDATE: Theresa May has written a letter to Donald Tusk asking for a delay to Brexit until June 30. The UK government had asked for the same extension last month, but the proposal was rejected by EU leaders at the time.
---
The UK could leave sooner if Parliament agrees on a deal, according to Tusk's proposal, which will need to be agreed by EU leaders at the summit scheduled for next week.
PM Theresa May and Labour leader Jeremy Corbyn will continue their talks today in an attempt to find a compromise on Brexit that could pass in the Parliament and keep the delay as short as possible. If they cannot do so, the delay to Brexit is expected to be long, which could mean that the UK would have to take part in the EU elections in May.
As of now, the UK is due to leave the EU on 12 April unless another proposal is accepted by both the UK and the EU. If it wants to avoid a no-deal Brexit, the UK needs a longer delay, according to the PM, who was forced through a Commons vote on Wednesday to ask the EU for another extension to Article 50.