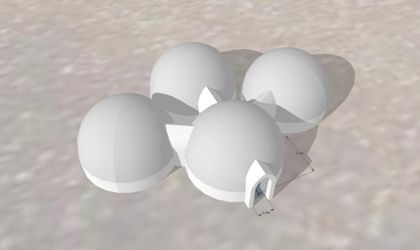 The 12 double rooms and the three igloos from the Balea Lake Ice Hotel were booked from a group of 30 British tourists, as they plan to spend New Year's Eve at over 2,000 meters altitude, says Vasilica Popa, representative of hotel owner Klingeis Consulting, according to Agerpres newswire.
The owners of the hotel and of the igloos promise that they will put up the buildings as early as December. Outdoor temperatures and particularly the already 15 cm thick snow layer give the Ice Hotel owners confidence that they can start works at the beginning of December, or even earlier. With a quite short lifetime of only three to four months, the Ice Hotel at the Balea Lake proved quite a tourist attraction in recent years, as thousands of visitors from all over the world ventured here at least for a snapshot in the icy rooms.
The hotel was initiated by Arnold Gunter Klingeis. Travelers and tourists interested in sampling the ice hotel experience will be able to attend the events organized in the location, have lunch at the Ice Restaurants while drinking from ice cups.
Located 60 kilometers from the city of Sibiu (rd 272 km northwest of Bucharest), the Balea Lake tourist area is accessible in winter only by cable car, given that the national road DN7 — Transfagarasan is closed at this time of the year.
Oana Vasiliu