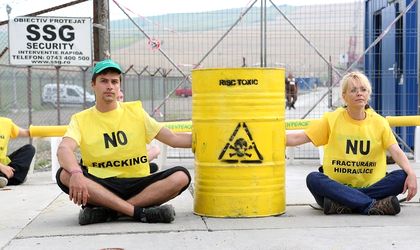 25 Greenpeace activists from Romania, Hungary, Austria, the Czech Republic, Poland, Slovakia and Germany chained themselves to the gates of a Chevron shale gas exploration well in Pungesti, Vaslui county, on Monday, blocking access to the site and urging the government to enforce a ban on fracking.
Protesters say they are concerned Chevron will use fracking, or hydraulic fracturing – the process which helps retrieve gas trapped in tight layered underground rock formations by injecting high-pressure water, sand and chemicals, writes Reuters.
Wearing bright yellow jackets, the activists blocked access to the road and chained themselves to the tall gates, which have barbed wire on top. They waved banners that said "Pungesti-anti-Chevron quarantine area" and "Stop fracking".
Several police officers were sent to the site but have not yet taken steps to remove the activists.
"The protest action is peaceful and does not require a intervention. People in the area have been identified both by us and the Police, they are citizens from several countries", according to Lucian Modoranu, spokespoerson for IJJ Vaslui, quoted by Mediafax.
U.S. energy major Chevron began work on the exploration well in the village of Pungesti in eastern Romania in December, after postponing operations several times because of protests from hundreds of local residents.
Romania could potentially hold 51 trillion cubic feet of shale gas, which would cover domestic demand for more than a century, the U.S. Energy Information Administration estimates.
Photo credit – Greenpeace Romania