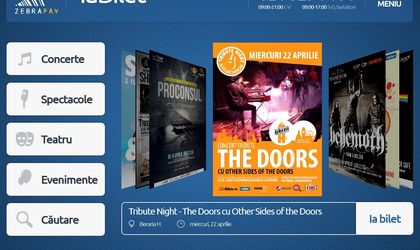 Iabilet.ro and ZebraPay launch the first self-service payment solution for tickets to the events held in Romania. ZebraPay payment terminals are connected directly to the iabilet.ro platform and the purchase runs on cash, Bitcoin and Seqr.
The www.iabilet.ro physical ticketing network will thus expand on the 1500 ZebraPay terminals across the country. Concerts, theater and events' lovers can now buy tickets to over 300 events as well from the ZebraPay terminals installed in retail chains such as Kaufland, Billa, Cora, Auchan, Carrefour, Mega Image, in universities, shopping centers, markets, gas stations and convenience stores. The terminals provide change as voucher and the ticket is printed by the terminal itself, the printed ticket including the barcode for entering the event.
"We built this service from a personal need: we have been organizing concerts for 10 years in Romania and we needed a system as iaBilet, so we gathered all the facilities that we have used as organizers and we implemented them. Over the past three years, from the feedback of over 500 (B2B) customers we work with, we added new facilities almost every week. For the future we plan to expand on Romania's neighboring markets, but we also work on a whitelabeling solution. The ZebraPay contract helped us expanding even more the revolutionary services' offer," stated in a press release Emil Ionescu, iaBilet.ro general manager.
Launched in 2012, iaBilet.ro shortly reached over EUR 500.000 in turnover and over 60,000 tickets sold quarterly (January-March 2015 results).
ZebraPay owns the largest network of self-service payment terminals in Romania, which are located in more than 300 localities.
Staff