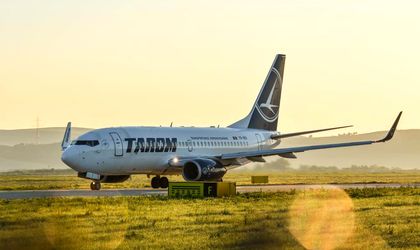 Romania's state-owned airline, Tarom, will launch flights this year from Bucharest to Odessa, Baku, Tbilisi and Yerevan, according to routesonline.com.
Tarom, a Skyteam member, filed preliminary info on its planned new service at the beginning of this week.
The list of planned new service filed for later this year includes the following flights: Bucharest – Baku (with Airbus A318), Bucharest – Odessa (ATR72), Bucharest – Tbilisi (A318) and Bucharest – Yerevan (A318).
Tarom will also launch from July flights on the following routes: Cluj-Paris, Timisoara-Paris, Timisoara-Stuttgart, Sibiu-Stuttgart, Timisoara-Chisinau, Constanta-Chisinau and Constanta-Suceava.
Tarom said this month that it added two new airplanes to its fleet, taking the total number of planes in operation to 25.
The two new planes are Boeing 737-800 NG and will be called Mihai Viteazul and Alexandru Ioan Cuza.
The new airplanes have been acquired in operational leasing from Boeing, for a period of seven years.  The company will start the payment for the aircraft in the next 24 months.
Tarom's current fleet comprises four Boeing 737-700, four Boeing 737-300, four Airbus A318-111, four ATR 42-500, two ATR 72-500 and two Boeing 737-800 NG.