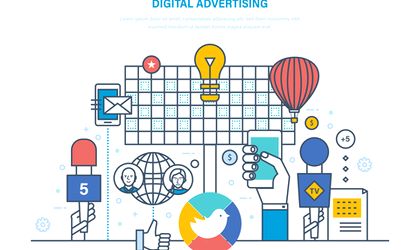 Despite not being among the top advertising investment markets in Europe, the Romanian online domain is growing at a pretty fast speed compared to other media and attracting some of the most talented people in the sector. The new technologies are improving customer experience daily and bringing about innovation and entertainment.
By Romanita Oprea
Gross digital advertising expenditure in Europe represented EUR 48 billion in 2017, up 13.2 percent from EUR 42.5 billion in 2016. In the 12 years between 2006 and 2017, the market grew by EUR 41.3 billion, and it has doubled in size over the past five years. Growth rates have been stable for the past six years despite major structural changes in the market – from the proliferation of programmatic, social, mobile and video, to an increased presence of large platforms. The data come from the AdEx Benchmark 2017 Report – the definitive guide to the state of the European digital advertising market – created by IAB Europe, in collaboration with IHS Markit.
Moreover, according to the study, the new all-media market high of 2017 was EUR 117.2 billion, with display growth exclusively coming from social, mobile, and video, while the fastest growing markets were in Central and Eastern Europe (CEE), the Nordic markets, and the UK.
In Romania, marketers spent EUR 3.1 per person on digital advertising in 2017, digital advertising spend per capita being a metric that helps to evaluate a market's scope for development. It shows how much an online consumer is worth in terms of advertising in a given market. Using IHS Markit population data, digital ad spend per capita provides a normalized basis to compare advertising markets. It highlights the maturity of an online market irrespective of its size or absolute spend. Romania ends the list of the 27 countries, with the lowest budget. The European average spend was EUR 64.4 per capita while the UK's, which topped the chart, was EUR 240 per capita.
When it comes to formats, in Europe display and paid-for search both recorded market share gains in 2017 at the expense of classifieds & directories. EUR 5.5 billion in total was added to the digital advertising market in Europe in 2017. Paid-for search had the highest additions due to its greater market share. Display followed closely due to its higher growth but slightly lower market share. Video, mobile and social were the main contributors within the display category. Video grew its share to double-digits for the first time in 2017, up to 11 percent from 9.2 percent in 2016, while non-display video's market share declined, from 30.4 percent in 2016 to 29.3 percent in 2017.
According to the Media Fact Book, the yearly report issued by Initiative (the media agency of Lowe Group), the total value of online media is expected to reach around EUR 85 million in 2018, marking an increase of 16 percent on 2017. Google and Facebook dominate the market in terms of attracted budgets, with almost 70 percent of total investment and with a higher pace of growth, while local display keeps a linear trend. A significant increase comes from the programmatic area (excluding AdWords tools), up by an impressive 80 percent. "Having in mind the ever-increasing statistics related to internet penetration, time spent (especially in young 'digital first' generations, but not only), significant growth of online shopping and basically the commoditization of the internet, the market will most likely keep its positive investment dynamic, with at least the same growth pace we're used to," said Andreea Dinescu, managing director at Profero. Her opinion is shared by Stefan Chiritescu, strategy director at Kubis Interactive,who says that the Romanian online market is in line with the European market evolution: the investment in mobile platforms, programmatic and search follows the same increasing rates (but from a small scale) as in more developed and stable markets.
"Video content and display are still king(s). Online has become a strong number two, after TV, as both these media channels showed an increasing trend. Despite the fact that we are in 2018, for many marketers, the digital medium is equivalent to social media. Therefore, a consistent part of their efforts is allocated to this dimension of digital marketing," said Chiritescu.
He added, "As reach indicator continues to be the main criteria for campaign success, the mix of Facebook and search seems to be the most common answer for different types of media briefs. On a positive note, the very good news is the fact that we could see arising a micro-trend of integrated digital strategies, where the digital channels are correlated into a more complex business approach. The niche brands especially have understood the benefits of an omnichannel approach as their small scale allows an A/B thinking approach that could deliver a consistent communication model."
In her turn, Andreea Gavrila, group creative director at Kaleidoscope Proximity, said that Romanians are bigger TV lovers than any of their fellow Europeans (the latest studies indicate an average of six to seven hours/day of TV consumption), while YouTube is on the rise and Facebook is seen more and more as a video-sharing platform. "Moreover, it is no secret that the Mobile Generation is here (over 90 percent of Romanians now own a smartphone) and that one out of three Romanians checks their phones before getting out of bed. Therefore, the best channel is the one that works best in a strategic sense: one thought of within a cross-channel funnel and that addresses each player as having an active role, a functional part within a bigger ecosystem," said Gavrila.
Moreover, the Kaleidoscope Proximity representative adds that Romanians' propensity to digital has increased in recent years – a fact reflected in media budgets, where advertisers and brand managers are paying more attention to digital. 360 campaigns that move the brand from A to B are considered within a measurable and optimizable data-driven framework. Clients need measurable results, and digital is a metric-friendly and KPI-centric channel.
When it comes to budgets, Dinescu believes that it is an ongoing cycle: increasing purchasing power and a positive perception of future incomes create a market on a positive trend in many sectors. "As long as clients see a clear value and measurable results impacting their business KPIs, they're willing to invest to achieve their targets. And the better the business results, bigger budgets get invested into communication to further contribute to growth. I believe the focus is on measurability, continuous optimization and smart usage of data as means to unlock growth."
At the same time, according to Gavirla, digital metrics can surprise marketers, with a little effort and minimal extra budget. It's just a matter of smart planning. "This is why online advertising agencies have become more immersed in the whole conversation – digital is now more than a channel, it has become a must when creating any type of campaign. And if you give data-driven arguments, address each digital touch point within a logical consumer journey, and use your content to drive brand performance, clients will find that little extra and help you bring their brand more into users' displays and digital lives," added Gavrila.
So which types of campaigns are preferred and why? According to Chiritescu, micro-campaigns that have video content at the core are best sellers. They are simple to produce, distribute and amplify. "The increasing trend of micro-campaigns is the best thing occurring on our market. On one hand, these types of campaigns help clients to see the power of the digital medium; on the other hand, video content is what consumers enjoy the most," said the Kubis Interactive representative. And convincing clients to take a more creative route is not that hard anymore, as long as, Chiritescu points out, you are relevant for the client's business needs, reasonable with the production costs, and able to calculate ROI for your creative products. "It's the game of maturity in a quite immature market."
In her turn, Gavrila considers innovation  a concept with as many facets as there are brands in this industry. It all depends on how thick your circle of trust is: if you have a lasting relationship with your client, and the client has a lasting relationship with the brand – we may have a common understanding of how the brand evolves and when it is time to move to the next level. "Nevertheless, the consumer is instinctively sensitive to any sudden change in communication, so innovation should be applied in small doses that will not confuse the audience," added Gavrila. The innovation card is also played by the Profero representative who believes that innovation and new technologies are responsible for changing the way of work, and that because we are surrounded by technology at every moment of our lives, innovation has to be intimately connected to increasingly effective means of achieving objectives. "As long as there is a direct correlation between innovative ideas and their impact on the business results, most clients are actually open to try and innovate and even ask for such solutions with every brief they send," said Dinescu.
The pros and cons
With Romania still a young and talented market, there are endless communication territories waiting to be tackled in numerous ways, for different targets. "We are reaching enthusiastic people, no matter how young or old; the Romanian audience is one of the wittiest, most engaging and loyal communities in European advertising and this is for sure a plus for any CRM or gamification strategy. Moreover, brand people are young, passionate and open to ideas, however courageous. We as an industry have a bundle of talented people that have shifted to digital, from ATL, going through media and efficiency and ranging down to BTL. What they have in common is a mindset – that digital can impact our culture," said Gavrila, looking on the positive side of things.
"Brands' digital presence is not in question, but the way we shape it with short-, medium- and long-term objectives in mind. In digital almost if not everything is measurable. This translates into ongoing data analysis for continuous testing, adjustments, optimizations and course corrections that transform this medium into one of the most effective means of communication for advertisers," added Dinescu, echoing the positive tone.
Turning to what should be improved, Chiritescu pointed out that omnichannel might be the new cool word of the industry as well as the big data perspective, but from the nice and flashy ppts to the day-by-day implementation is a huge distance. Despite the fact that everybody is talking about digital transformation, a lot of fundamental processes from IT to customer support lack consistency and integration. "I strongly believe that before talking about the best and most efficient digital communication campaigns, we need to help our clients understand how to adapt their companies, internal processes, products and services to the requirements of the more evolved and demanding digital consumer. We need to fix the value offer before wrapping it in a shiny and attractive communication package," argued Chiritescu.
The trends
With that in mind, what is coming up for the industry and what are the main trends one should pay attention to? "It will be better for us as an industry to succeed in positioning ourselves more as value creators, not just those Romanian fellows that deliver nice and easy solutions at incredibly low prices. Personally, creative technology products should be a pillar that supports the growth of the entire Romanian economy," said Chiritescu.
According to Dinescu, being connected 24/7 represents the most important advantage. Moreover, she notes the developments in AI (Artificial Intelligence), that she believes will impact not only advertising, but almost all sectors of our lives, enabling new, improved consumer experiences that manifest also in relation to brands.
"We are still following the global trends of 2017, especially on influencer marketing, chat bots and video content. Yet when it comes to trend adoption, Romanian brands should pay attention to how to integrate tech trends in a cross-device strategy, and ask the right questions, because a good question is a half-solved problem. And if brands make it personal, personified, consumer-centric and simple, the audience will notice, appreciate and act accordingly. And maybe, just maybe, they will become loyal to your brand," said Gavrila.
In his turn, Chiritescu affirmed he strongly believes in fulfilling consumers' micro-moments, a micro-moment being a new type of consumer behavior, which occurs when people reflexively turn to a device, usually a smartphone, to act on a need to learn something, do something, get to know something or buy something. "There are a lot of different types of micro-moments such as the I-want-to-know moment, I-want-to-go-moment, I-want-to-do moment or I-want-to-buy moment. They are the new reality for the consumer journey. The better we understand these micro-moments, the better creative products we'll be able to develop," concluded the Kubis Interactive representative.