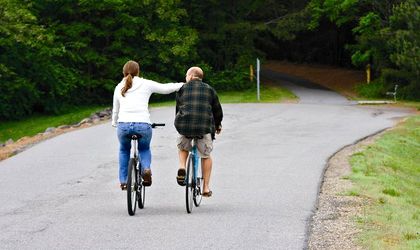 Deep pockets are not required if you want to spend your leisure time like a typical Romanian. Recent studies show that the top local activities of choice are staying home and watching TV. Physical activity is not a popular pastime, but if necessary, a trip to the mall and some window shopping should tick the box for minimum exercise. Business Review sees what else local people get up to on their days off and gets the experts' (a sociologist, researcher and tourism consultant) take on the local leisure scene.
Corina Dumitrescu
According to a study carried out by research company GfK in 2010, which looked into the leisure and travel habits of citizens of 16 European countries, a staggering 70 percent of Romanians spend their holidays at home. A similar proportion of the neighbors from south of the Danube – 71 percent – do the same. But it's a difference picture over in Western Europe. Here, wanderlust is widespread: 87 percent of Swedes spend their free time traveling, just ahead of the Dutch, 85 percent of whom are travel aficionados, followed by the Belgians, of whom 77 percent enjoy venturing beyond their borders.
Why are Romanians such homebodies? Dan Petre, who holds a PhD in Sociology and is a specialist in communication sciences, as well as managing partner and director of the qualitative studies department of D&D Research, believes that it all comes down to "mentalities and socio-economic conditions. On the background of traditional mentalities (even somewhat pastoral), a lower level of income compared to other nations is a factor along with a reduced range of entertainment opportunities. At the moment, television (with an average of seven hours' viewing per day), going to the mall (in larger cities), spending time with friends and family and going to a barbecue come top of Romanians' lists when it comes to leisure." Some 8 percent enjoy shopping, both in Romania and when they go abroad. This is music to retailers' ears: one of the biggest malls in Bucharest reported traffic of over 55,000 visitors on weekdays and over 85,000 at weekends last summer.
Younger generations are bigger travelers than their predecessors, and not only in Romanian – Germany is the only country in Europe where the old and the young embrace travel with equal zest. In Romania, an overwhelming 87 percent of the elderly spend their time at home.
However, while young people are fond of packing their bags and hitting the road, "social networking sites (and other web 2.0 activities) as well as internet surfing are their top leisure choice," says Petre, who is also a professor at SNSPA (the National School of Political and Administrative Studies). He adds: "The picture in Romania is influenced by the relative paucity of opportunities for spending free time offered to Romanians by society (the state, as well as private operators)." He cites the example of the local seaside where, besides "sunbathing, strolling and going to clubs, the entertainment opportunities are very homogenous and limited compared to the demand. This is especially true for the young, who want to explore different options."
The Romanians who do travel often prefer domestic jaunts, says Traian Badulescu, tourism consultant and general manager at Travel Advisor Media. Top choices are the seaside (especially Mamaia, Neptun-Olimp, which has enjoyed a resurgence in demand, as well as Costinesti and Vama Veche), spa holidays (Baile Felix, Calimanesti-Caciulata, Vatra Dornei, Covasna, Balvanyos, Saturn, Eforie Nord), mountain sojourns (Valea Prahovei, Poiana Brasov, Predeal) and rural tourism, a popular choice which tends to be arranged independently rather than through travel agencies (Bran Moieciu, Bucovina, Maramures, Marginimea Sibiului).
When traveling abroad, Romanians head for, in this order, Bulgaria, Greece, Austria, Turkey, Spain, Italy, France, Croatia and Egypt, says Badulescu. They budget an average of EUR 300 per domestic tourism package and EUR 500 for a foreign holiday. In 2010, an estimated 1 million tourists traveled abroad while 4 million chose to explore their own country (with figures based on the number of sold package holidays). The average European, the GfK study found, spent around EUR 1,000 on his or her vacation in 2010.
Even when they travel, Romanians mostly seek relaxation, adds Badulescu: "Some people go on activity holidays (especially in the winter, to Romania, Austria, Bulgaria, etc), or enjoy adventure tourism, but the figure is low."
Bars and clubs are other local leisure-time hotspots, added the GfK report. Around 24 percent Romanians go out drinking, similar to the party-fond Portuguese (22 percent) and the Germans.
Free time? What free time?
Some urban legends suggest there is an emerging class of workaholics among younger Romanian employees. If this is so, does it mean that leisure takes second place to career advancement? Oana Mirila, qualitative research director at GfK Romania, says, "It is true that after 2000, workaholics began appearing here, too, especially people who work for multinationals or in some industries where overtime is common. But I wouldn't say that this is typical. We Romanians value our free time and don't really neglect our recreational activities, the ones that we enjoy. Even though we do not always have the necessary resources for a vacation (money or time), each of us has a small 'refuge,' a place we enjoy escaping to: visiting friends or family in the countryside or  getting back to nature (the park, forest, etc)."
On the subject of workaholism, Petre cites studies carried out by the Testcentral company.
"This trend is not as significant as we would like to believe. In the case of Romanians, workaholism is more of an urban myth than a reality. Studies show that Romanians' tendency is to extend their free time into their work time rather than sacrifice it. And the explosion of web 2.0 use (Facebook and Yahoo Messenger) during work hours exacerbates this situation."
Looking at how local leisure activities have evolved over time, Mirila comments: "The major change came after 2000, when more and more Romanians began considering holidays abroad, a less common choice in the last two years, on account of the crisis. We are the type who looks for 'stable' options – we have to book in advance, have reservations everywhere, etc. We are not used to turning up on spec at the location or choosing options like rural tourism or random hosts, etc. In other words, we need certainty, we need to eliminate risk on our vacations. Moreover, we don't go for unconventional holidays, either as activities or as destinations – we choose well established locations. And most of the time, we opt for comfort – laying on the beach or going in the water rather than 'active rest' such as sports or any kind of physical activity."
Petre believes that the crisis has brought "important changes in how we spend our free time. Before the crisis, there was a strong tendency to adopt Western activities and mentalities (holidays abroad, dining out, visiting malls – generally there was greater mobility). The crisis hit that trend strongly and put us back many years, to cheaper free-time activities, more traditional, more family and friends oriented and locally based. The only segment of consumers that seems to be strongly connected to the West are the young, and this is the result of their almost organic connection to the internet."