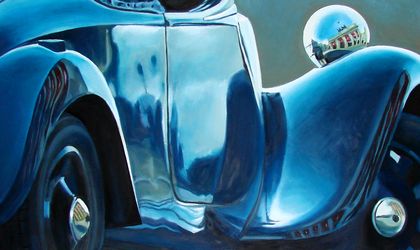 The Dialog: New Energies section of the ViennaFair.The New Contemporary, the contemporary art fair taking place in the Austrian capital, will bring the focus this year on 30 Romanian artists in a presentation curated by Romanian art expert Andreiana Mihail. Works by Romanian artists will be presented by five galleries:  Anaid Art Gallery, Anca Poterasu Gallery, Jecza Gallery, Galeria Plan B, and Zorzini Gallery – and two non-profit spaces: ATELIER 030202 and ALERT studio.
The ViennaFair takes place October 2nd to 5th.
The dedicated focus to contemporary Romanian art comes as it has been receiving increasing international attention in recent years, both from reputable exhibition spaces and from collectors. According to the organizers of the fair, the curatorial "from classical contemporary artists, frequently considered as emerging due to their lack of exposure during communism, to young and inquisitive artists who tell their own personal story independently of any socio-political perspective."
" Dialog: New Energies aims at finding the delicate balance between the expected commercial purpose of a fair and the clarity and coherence of a theoretical outline which reflects on adapting and assuming as the two most significant existential attitudes in recent Romanian history," the organizers say.
Over the course of the past ten years ViennaFair The New Contemporary has become a springboard for galleries and artists from countries in the Central, Eastern, and South-Eastern European region. Many galleries made their first presentation for an international audience here.
The Dialog: New Energies section is co-initiated and supported by OMV.
A catalogue of participating artists is available here.
Photo: Mihai Florea, Marching. Berlin. 1932, 70x120cm, oil on canvas, 2011. Courtesy of Vienna Fair
Romanian galleries participating at Dialog: New Energies
Founded in 2004, Anaid Art Gallery plans to exhibit and represent emerging international artists in the Romanian scene besides the presentation of works by young Romanian artists.
Artists: Alexandru Rădvan; Kyle Fitzpatrick; Matei Arnăutu; Mihai Florea;  Zsolt Berszán
Anca Poteraşu Gallery started under the name Little Yellow Studio as an alternative art space for group exhibitions, performances, and interactive dialogs in 2009.
Artists: Daniel Djamo, Irina Botea, Nicu  Ilfoveanu, Zoltán Béla
Jecza Gallery from Timişoara presents mainly Romanian contemporary art of the 1970s and 1980s, but also shows an interest in young artists who endorse similar working practices and ideas.
Artists: Peter Jecza; The Sigma 1 Group – founded by Constantin Flondor, Doru Tulcan and Stefan Bertalan, Mihai Olos, Liviu Stoicoviciu, Genti Korini, Michele Bressan
Artists: Ioana Bătrânu, Șerban Savu, Eugen Rosca   
Zorzini Gallery focuses on introducing recent and contemporary art from Romania into the international art circuit but also on presenting international artists to the local art scene.
Artists: Dan Beudean, Vlad Berte, Belenyi Szabolcs, Andrei Gamart, Roman Tolici   
ATELIER 030202 was founded by Mihai Zgondoiu in 2009. The contemporary art space presents works by young artists devoted to experimental and visual concepts and new media.
Artists: Ioana Ciocan, Mihai Zgondoiu, Virgil Scripcariu
Initiated by the artists Alina Buga, Cătălin Burcea, and Raluca Demetrescu, ALERT studio is an independent, artist-run laboratory and platform for the study and promotion of contemporary art production.
Artists: Alina Buga, Cătălin Burcea, Gabriel Stoian, Vlad Basalici