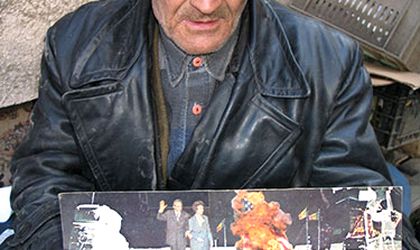 The documentary "The World According to Ion B.", depicting the story of Romanian homeless collage artist Ion Barladeanu, has been nominated in the "Arts Programming" section of the 2010 International Emmys, announces the International Emmy Awards official website. The Romanian documentary has won the award during the ceremony held on November 22 in New York City.
The documentary, directed by Romanian director Alexander Nanau and produced by HBO Romania and Alexander Nanau Production, follows the life of 63-year-old Ion Barladeanu, initially an anonymous homeless man, who is later to become an internationally-acclaimed pop-art celebrity.
Other nominees in the same category are: "All My Life: Cazuza" (TV Globo, Brazil), "Imagine… David Hockney: A Bigger Picture" (BBC/ Coluga Pictures, UK) and "Personas Inside Out" (TV Asahi, Japan). The nominations were made known Monday by the International Academy of Television Arts & Sciences at the Mipcom fair in Cannes.
This is not Romania's first nomination for an Emmy Award. Romanian television channel Pro Tv has previously been nominated for two such awards for the documentary "Tibetans at the Chinese Border" and the series "Do You Know What Your Child is Doing?".
The International Academy of Television Arts & Sciences is a membership based organization comprised of leading media and entertainment figures from over 50 countries and 500 companies from all sectors of television including internet, mobile and technology. More here.
Corina Dumitrescu