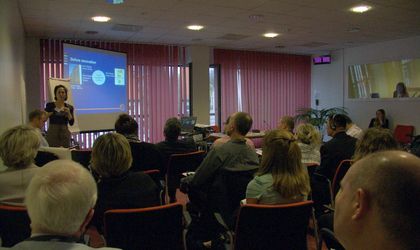 Four organizations hold the first housing forum in the region to explore and share solutions that address the urgent and widespread problem of substandard housing, officials from Habitat for Humanity have announced Business Review through a press release. The Forum will take place for three days and started on April 4. On behalf of Habitat for Humanity Romania, Emil Olteanu, executive director, and Ionut Raita, program manager, are participating.
The first Housing Forum Europe & Central Asia looks into housing issues and calls onto all governments in the region to find sustainable and affordable housing solutions. It was organized at the initiative of four organizations – Habitat for Humanity in Europe and Central Asia, the International Federation of Red Cross and Crescent Societies, the United Nations Development Programme and the United Nations Economic Commission for Europe. 
The issue of the Roma people will also be discussed
The recent devastating earthquakes in Haiti and Japan or last year's flooding in Central Europe have shown how vulnerable humans and their houses are to natural disasters and have created the pretext for this forum. To address social inequality, bring development, guarantee employment and achieve greater social inclusion of groups like the Roma, Europe needs to find appropriate housing solutions, is shown in the press release.
The Forum brings together almost 150 leading housing professionals from the region, among them key NGO actors, private corporations, researchers and policymakers to explore and share solutions to address urgent housing issues. 
The first Housing Forum Europe & Central Asia runs for three days in the capital of Hungary that holds for six months the European Union presidency. It is organized under the auspices of the Hungarian government and with the patronage of the Minister of Foreign Affairs of Hungary. It is also supported by Habitat for Humanity Hungary. 
UPDATE: "Decent housing is still not treated as a priority for community development in Romania," declared Emil Olteanu, national director of Habitat for Humanity Romania, at the forum. Housing in Europe and Central Asia needs to change from finance and profit to human rights and needs, was the main conclusion of the Housing Forum Europe & Central Asia that took place on April 4-6, in Budapest, officials report.
The forum also underlined a number of challenges that housing faces in the region and globally:  it is politically unattractive, financially expensive, solutions are non-standard and infinitely complex. At the same time, catalyzing change and finding innovative housing solutions can be achieved through joint work of the NGO community, businesses and governments.
"Despite reports and studies, despite the obvious evidence of housing deprivation we find in most of our communities, affordable and decent housing is still not treated as a priority for community development in Romania. Housing is seen as an asset only, and not as the place in which we grow, develop and live our daily lives. Truly affordable housing is still vastly non-existent leading to a staggering 53 percent of Romanians living in overcrowded conditions. The first European Housing Forum succeeded in refocusing on the main point and meaning of housing: the person that lives within. It's not about what housing is, it's about what housing does." declared Emil Olteanu, national director of Habitat for Humanity Romania.
 "We will go back and look at the people-centered models we can support. Then, we will be looking at the available financial means to keep them going. The energy-efficiency component should also be prioritized, as it really can help solve many problems for poor households in this region", said Jens Wandel, UNDP deputy regional bureau director and director of UNDP Bratislava Regional Centre. "Energy efficiency in housing offers the double benefit of safeguarding our environment and reducing fuel poverty of many in the region."
Organizing partners also promised to start laying the groundwork for the second housing forum for this region in two years.
Picture courtesy of Habitat for Humanity
 
Corina Dumitrescu