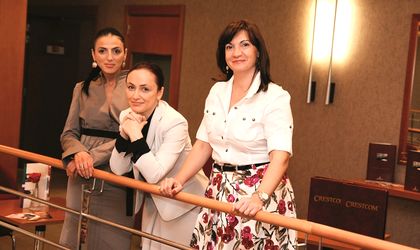 Since Giuliana Boicu became an entrepreneur, by bringing the franchise of the US-based training company Crestcom onto the local market, she has managed to build turnover to approximately USD 450,000 this year. Next year's objective is to increase the team.
By Dana Ciuraru
 Giuliana Boicu first decided to become an entrepreneur in 2005, when she took the decision to represent the US-based training company Crestcom International in Romania, as a master franchise. This route seemed to her the best way into the business world.
"Along with my current business partners at People Investment-Crestcom – Gabriela Badina and Anne-Marie Iliescu – we thought about different solutions for entrepreneurship at that time. It is well known that one of the shortest ways to success is a franchise business so we turned our attention to this option," Boicu tells Business Review. She goes on: "We went to several fairs in both Bucharest and abroad and decided on a franchise in the training field. After a week of training in Denver, we decided to represent Crestcom in Romania as a master franchise."
It wasn't an overnight decision and her previous work experience had given her a good grounding in the field.
The entrepreneur had built up solid experience over more that nine years working in different industries for well-known companies such as DHL International Romania, Telemobil, Sensiblu and GSK-Europharm.
"After my last job with a multinational company, in 2005, I knew that I wanted to become my own boss, to use the experience I had gained and proven by results in the management field and to have a flexible work schedule. Therefore, I decided it was time to start my own business," says Boicu.
Now managing partner at People Investment-Crestcom, Boicu remembers that at the beginning of her career as an entrepreneur, there were some tough times, and troughs as well as peaks.
"There were many difficult moments in the first year, such as the translation of material, logistics and learning from experience and from failures. And most of the experience we now have was gained the hard way," says Boicu, looking back on her early days as a fledgling entrepreneur.
Nor did she get automatic support from those around her. "Not everybody was happy when the initial investment was high and we had to convince our families that it was a good one." According to her, the initial outlay for the franchise was about USD 100,000.
People Investment-Crestcom brought onto the local market BulletProof Manager, a training course which is based on the development of ten managerial skills, including communication, customer service, developing and motivating employees, managing priorities, negotiation, solving problems and strategic thinking.
According to Boicu, what differentiates Crestcom's training from other available services in the same field are the product, the way in which it is delivered and its efficiency.
"This is a program that completely prepares a manager to deliver results as per role responsibility," says Boicu. She adds that the product has been awarded in the UK and has received positive feedback from managers and CEOs who have signed up for it.
Even now after some years of experience, the business still has to face some hurdles, one of which is some local businesspeople's skepticism. "One of the biggest challenges is CEOs' mentalities. While multinational companies constantly invest in management team development, very few Romanian companies do. Many of our clients realize how this training can positively influence their people's performance," says Boicu. Another big challenge is that the training market is a very competitive one with a lot of companies offering this kind of service.
People Investment-Crestcom's plans for the following years are bold. As master franchisee, Boicu announces that the major plan is to enlarge the team.
"Beside Bucharest we are now represented in Ploiesti, Brasov, Sibiu by Excellero and in the Timisoara region by Vladteh," adds the entrepreneur.