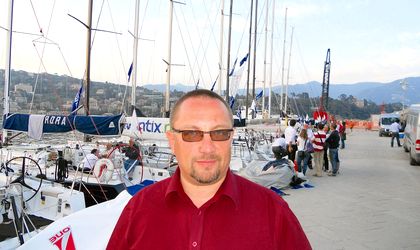 With an estimated turnover for this year of EUR 3.5 million, Robert Ambrozie has big plans for Blue Marine Yachts. His company will launch, in cooperation with the UK-based Royal Yachting Association (RYA), Black Sea Sailing School, the first RYA school in Eastern Europe.
Anda Sebesi
Robert Ambrozie, general manager of Blue Marine Yachts, started his career back in 1990, after which he worked in different sales departments, and was in charge of managing a wide range of teams. After ten years of solid experience in sales he decided to set up his own company, specialized in interior design and project management. But he changed paths in 2004: "I found the inner strength to change my field of business and I took over the running of the sales department of a company specialized in motor boats," says Ambrozie.
Three years later, he changed direction again, to entrepreneurship. "In 2007 I decided that I wanted to go into yachting," remembers the businessman.
The idea to set up such a company came in the only place where such an idea could come: at sea. He saw the opportunity for this enterprise based on its significant potential on the local market. "I thought what a pity it was that so few people had enjoyed the extraordinary sensations of yachting. I wanted to do something to give other people the joy, thrill and challenge that can provide an escape from the tedium of day-to-day existence," says Ambrozie.
He chose to set up Blue Marine Yachts – a company specialized in importing sailboats – mainly because of his passion for yachting, but also because he saw the need for this business and the potential of the Romanian market. "The characteristics of the Romanian coastline and the possibility of developing a hub for yachting here played a significant role in my decision to establish this business. I had the premises, the impetus, and I had the vision of what was going to happen in the coming years. It was almost impossible not to take up the mantle," says Ambrozie.
The most difficult moment for the young entrepreneur was when he decided to invest a significant amount of money in a stockpile of boats, at a time when the market was still virgin. But despite the uncertainty, he preferred to rely more on his intuition and less on market research.
"I felt I had to do it. Even in times of crisis," adds the general manager. Like many other entrepreneurs he has no regrets, because everything evolved naturally. Plus, "I contributed to the development of a noble sport and so I am running this business from passion," says Ambrozie. He adds that he rues the fact that Romania's nautical infrastructure is less developed than in other countries.
"I am referring not only to Western countries; I am looking closer, to our neighbors in the Black
Sea area," adds the young entrepreneur.
If he started another business, he would like things to happen more quickly than in the yachting industry. He also aspires to make his mark on the Romanian lifestyle. "I would like the power to change Romanians' mentality towards unwinding and leisure time. They have resorted only to simple activities that don't develop the spirit or the imagination in the last few years," says Ambrozie.
In his opinion both the biggest challenge and satisfaction in his business is when he manages to impart his passion for yachting to those who have never imagined being at the steering wheel of a boat, being propelled by the wind.
Although yachting is still a young market, it is also an effervescent one. While it might now seem that the local yachting scene is very crowded – with many companies importing luxury boats – the current players have focused on motor boats. But Ambrozie is not afraid of competition: he sees it as a driving force for the market.
"It motivates us and eventually it is the engine for progress for every business," says the entrepreneur. According to him, Blue Marine Yachts is market leader on the sailing boat segment.
"We have tried to develop this segment of the market in recent years to the exclusion of motor boats because we believe that sail navigation offers more opportunities to explore the world," says Ambrozie. He adds: "The great advantage of sailing boats is that wind is the main motor. And wind is plentiful and free."
As for the future, Ambrozie says that the company intends to do something more than "importing freedom".
"We already have a project we're developing in cooperation with one of the top yachting association from Great Britain, the Royal Yachting Association (RYA), as part of which we will start the first professional school of yachting on the Black Sea in June. We are very proud that even though the accreditation process took more than one year, we managed to launch Black Sea Sailing School – the first RYA school in Eastern Europe," says the general manager. He adds that in addition to the RYA courses the company intends to create an events calendar with many nautical activities and boat races.