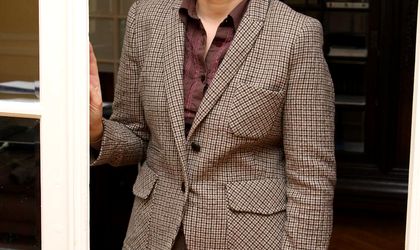 The consultancy industry is a pretty crowded market at present but Cristina Donoaica sees this as an opportunity to develop rather than a threat. Her main goal is to ensure that her company can continue to adapt to the various demands from the local business environment.
Anda Sebesi
Cristina Donoaica decided to become an entrepreneur in 2007, when she set up her own company, Koson Servicii Financiare. She chose to build a business on a very specific niche: financial and strategic management consultancy mainly for small and medium companies. Her professional background helped her in the process of creating her own firm as she had spent many years working in the venture capital and private equity industry for GED Capital Development.
"For more than eight years I worked to increase the value of the companies from the fund portfolio, to make new acquisitions and to sell those companies that the fund had exited from," details the managing partner.
The idea to set up Koson Servicii Financiare came as a natural step for Donoaica, who was driven by the idea that times are permanently changing. "Plus, I am a supporter of change. And by chance, my shift was in keeping with the changes caused by the current economic downturn," says the businesswoman. A favorable economic context helped her build her business, as venture capital and private equity investments have always been and still are difficult, she believes. "From 2006-2008 all companies made great strides, mainly because of the explosion of consumption on the local market and of corporate credit offered by lenders. In fact, the speed of development meant companies neglected to think about the fundamentals of their business. As a result, the current downturn reminded them that there is no substitute for added value," says Donoaica of the way her firm came into being.
As a business consultant, the managing partner says her company has faced many and varied challenges so far. And the nature of the service-based industry can make it difficult for her customers to see the tangible benefit of consultancy activity. This is probably one of the main hurdles for Koson Servicii Financiare at the moment. "Companies have only been using consultancy services for the last few years and so it is difficult for them to measure their benefits. Besides, the process of creating value for a company is similar but not the same regardless of the field of its activity," says the businesswoman.
Another characteristic of the local market is that companies only avail themselves of consultancy services when their financial situation becomes critical. This is not the ideal approach as it significantly diminishes the ways of intervening and recreating value for a company. "In some cases, restructuring under the protection of insolvency law can offer a way out. But it is hard and the results are unpredictable," cautions the consultant.
Her education and professional experience played a major role for Donoaica in developing her financial and management consultancy firm. But these alone were not enough to succeed. "It is clear that aplomb and determination are things that cannot be taught. Either you have them or the context forces you to discover them," says the businesswoman. Like many entrepreneurs, she is a proponent of the MBA course as a means to gain perspective on businesses approaches. "During an Romanian-Canadian MBA program you have the opportunity to test your own ideas and to learn in a short time and without costs what determined their success or failure. Plus, an MBA helps you to develop a managerial culture rather than an entrepreneurial one. But despite this, in the current economic context the two components complement each other," argues Donoiaca.
The entrepreneur decided to set up a business on a pretty crowded market, split between the so called big four – which have a significant combined market share of the management consultancy scene – and many other smaller specialized players.
"It is well known that small companies, like mine, offer some significant benefits for their customers such as a rapid response to their requests and a more targeted and clearer support of their activity," says the consultant. She adds, "As for available resources, small companies benefit from the development of communication technologies that facilitate many of the specific processes of consultancy activity such as conducting high quality market research and working in virtual teams of consultants involved in a specific project. This is why small consultancy companies gain ground, and not only at local level."
Asked about her future plans for Koson Servicii Financiare, Donoaica says that the most important goal for her is to maintain her capacity to adapt her business to the different requirements of the local business environment. "We intend to do this by attracting experienced and highly skilled consultants and coordinating them in order to be able to offer the maximum created value for our customers," concludes Donoaica.
anda.sebesi@business-review.roCompany profile
Koson Servicii Financiare
Established:  2007
Number of employees and
collaborators: 12
2011 estimated profit: EUR 100,000
Portfolio of services: solutions to increase businesses, financial sources to develop companies, developing human capital, etc.