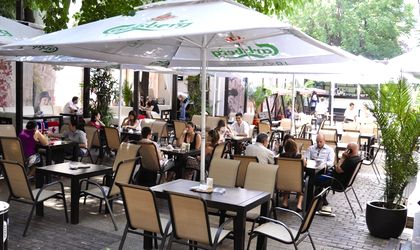 Despite Bucharest's pollution, broken streets and animal bad manners by drivers, the city has one crowning glory, which is the population's obsession with eating al fresco. So the owners of bars, restaurants and hotels have been quick to cash in on the demand for open-aired dining to such a point that it has become de rigueur to have a terrace, albeit of any size – nothing is too small.
Michael Barclay
Il Calcio
Situated beside the Atheneum, this terrace is big. It has had several owners over the years, but it is now held by Il Calcio, so you can expect indifferent so-called Italian food. Every table is shaded with an umbrella, which is just as well because there are no trees or shrubs to lower the temperature. Its greatest virtue is its size, so this adds to its popularity.
Address: 1-3 Str. Franklin
Reservations: 0732 528 140
Beer: RON 11
L'Escargot
In an area off Eminescu, and surrounded by other restaurants (Chinese, Spanish, Indian, Mexican) this place stands out as the best. It is a bistro style dump inside, but it has a charming small terrace at the rear. It is crowned with giant fig trees (but I think the neighbors have pinched all the figs) and apricot trees full of fruit which occasionally drop onto your table. Pricy (but good) French food.
Address: 101 Str. Toamnei.
Reservations: 021 201 7133
Beer: RON 9
La Strada
This terrace has become an institution in this city. It has undergone a huge renovation and has to be the 'greenest' terrace (literally) in town. There used to be a simple BBQ menu last year, but now it has been upgraded to a full a la carte Mediterranean menu which is surprisingly inexpensive. It's well worth a shot. Old Bucharest hands will be surprised at the changes they have made since last year. There is a range of beers.
Address: Hilton Hotel
Reservations: 021 303 3777
Beer: from RON 15
Embassy Terrace
The small chain of Embassy bars/restaurants has been the success story of the year. By word of mouth and without advertising, this terrace, in a dingy location, has become a raging success. It positively heaves with beautiful (and I mean beautiful) young things, drinking and rocking (in their seats) through the night. Slow, slow service, so get there early.
Address: 8 Piata Lahovari.
Reservations: 0733 500 300
Beer: RON 9
Lipscani district
Here we have an area where it is a 365 days a year, permanent Oktoberfest. It is all beer swilling, fun loving, non-violent fun, with a few restaurants interspersed between the bars. Suffice it to say that every owner in Lipscani must have a terrace, but that terrace can only be on the pavement.
Beer: RON 6-8
Nearest metro station:
Unirii, Universitate
Radisson Pool Side
Grill Terrace  
The most notable feature of this glittering hotel is its pool, surrounding area and bar. It is best seen at Sunday brunch where if you dine, you can swim in the open air pool – and if you are early enough, you get a pool sun lounger. If you choose not to brunch, no matter, as you can drink at the pool bar, or the larger second bar around the dining tables. During weekdays, it is still stunning, a taste of 'Bucharest Beach'. It is best experienced whilst there is still some sun, or daylight.
Address: 63 – 81 Calea Victoriei
Reservations: 021 311 9000
Beer: from RON 15
Centre Ville Le Bistro
This beauty is seamlessly attached to the Radisson pool. So enter it from Luterana and go upstairs, or just walk through the Radisson pool and you will see it at the end of the Rad. It differs from the Rad in as much as it is 'green', surrounded by a potted flower, tree and shrub garden. They also have live music from time to time. Their menu is 'mid Med' and very good.
Address: 4 Luterana, at Centre Ville Aparthotel
Reservations: 0040 21 312 70 70
Beer: RON 12
Gargantua
This lovely place is eccentrically attractive inside, but in addition it boasts a delightfully, leafy 'green' terrace on the fringes of Parcul Icoanei. In fact, the little terrace has better maintained grassy and shrub areas than the park. It is best visited for lunch or dinner, as it is not a place you would chill out at with nothing but a cold beer. So look over their menu and go there to dine, as it is well recommended.
Address: 69 Jean Louis Calderon, Parcul Icoanei
Reservations: 0722 702 560
Hanul Lui Manuc
What a delightful surprise this place is. This fabled 16th century coaching inn was (until now) the haunt of tourists and pensioners reliving their communist past. But those days are gone. Now it is as vibrant and cool as the rest of Lipscani. The entire interior is one giant courtyard, which constitutes its terrace. The food is either Romanian, or better still, the alternative is one of the best Lebanese restaurants in town. Enter from the Lipscani end, or alternatively use the Unirii entrance entitled 'restaurant Manuc', and then go upstairs to their terrace.
Address: Piata Unirii/Lipscani.
Reservations: 021.313.14.11
Beer: RON 7
Oliviers Restaurant and Astrodom Terrace
Oliviers offers fine organic food in a secluded yet heart-of-the-city location, part of Residence Hotel. The restaurant serves a variety of healthy courses, all created with organic products from the company's own crops. The menu is renewed every season with more delightful dishes and is accompanied by a wide selection of wines. The cuisine embraces both Mediterranean aromas
and traditional Romanian dishes. Specialties include: "Foie gras de canard", "Involtini alla parmigiana",
"Papardelle al tartufo", "Caviar d'ólive", "Grilled octopus" and homemade "Petit Four." Open: Monday-Sunday, 12:00-23:30.
Prices vary from affordable (RON 10.50, caviar d'olives) to expensive (RON 99, mixed grill).
Address: 19 Clucerului Street
Reservations: 0733 109 137
SkyBar Dorobanti
This café with a bar's name has brought a new concept to the Bucharest leisure scene: a roof bar, inspired by similar locations in Los Angeles. The eclectic music menu includes chill-out sessions during the daytime and cocktail-appropriate rhythms later at night. Situated in Bucharest's poshest neighborhood, Dorobanti, SkyBar uses location and design as its key differentiators. With the latter by Mihnea Ghildus, the venue boasts branded decor and futuristic facilities. It also has its very own catering firm and focuses on natural ingredients. Skybar is open daily, from 10.00 until the last customer.
 
Prices vary from affordable to average (an espresso is RON 9, a frappe
RON 21)
Address: Calea Dorobanti 155, 5th floor
Reservations: 0724 SKYBAR (0724 759 227)
mab.media@dnt.ro