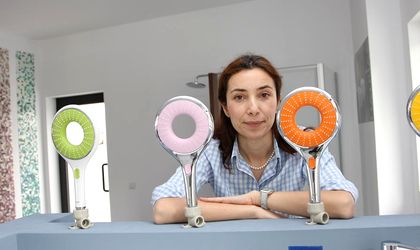 Young entrepreneur Mona Blaer is awash with bold plans for GQS Bathrooms. She intends to extend business on adjacent markets while maintaining the performance standards.
Anca Ionescu
Mona Blaer, business development manager of GQS Bathrooms / German Quality Solution, started her entrepreneurial career in 2008. At that time Blaer and her two business partners established a company that was active in real estate and project management. She was in charge of procurement activities for different real estate projects. But the idea to set up a business specialized in the distribution of sanitary products soon presented itself. "It came after many former customers asked about potential suppliers of furniture and finishings. Besides, there were some former suppliers that wanted us to collaborate again, at least as a commercial representation. All of this happened at the beginning of 2008," remembers the businesswoman.
But things didn't stop here. The IT, marketing and advertising expertise of her team helped her to start developing an e-commerce business model. "It was a long and challenging process, but our diverse professional experience earned us the trust of some major suppliers from the sanitary items industry," says Blaer.
GQS Bathrooms is now a brand of German Quality Solution, a retailer specialized in sanitary product commerce. It is also the owner of the online shop obiectesanitare.eu and serves as a direct importer or authorized dealer in Romania for all the brands on the site, which include brands such as Grohe, Ideal Standard, Radox, Duravit, Arthema, Vidima, Hatria, Franke, Ravak and Joop!.
Blaer's professional background greatly helped her to set up GQS Bathrooms. She was sales manager of the furniture and sanitary products division at Omnitech Trading (from 1997 to 2003) and then country manager at Berloni (2003-2005). She also gained marketing experience working for Trout&Partners Romania as business development director.
She sees the current downturn as a time for innovation and structuring rather than a threat. "Our range of products is permanently increasing, while we improve both the structure and procedures of our online store," says. Blaer. "Customers have greater needs, are better informed about quality, technology and design, while having fewer financial resources at their disposal. Even the premium segment needs alternatives with brand and design incorporated but with lower allocated budgets."
Blaer is one of the many young entrepreneurs to have availed themselves of the benefits of an MBA program. "The major achievement was that it changed my perspective: I gave up working as an employee. But the transition toward entrepreneurship was a gradual one because for almost two years I was associate partner with a marketing consultancy firm." She adds that an MBA program (she followed the Romanian-Canadian one) offers networking as one of its major benefits, especially during times of crisis.
Any start-up has its own difficulties, says Blaer. "For me the idea of not meeting the expectations of our customers is the major stress. Besides, the incertitude of being successful on an emerging e-commerce market such as Romania's was the first difficultly," she adds.
If Blaer started another business she would act sooner. "I still regret the time when I was undecided and dreaming. But it is possible that things have evolved in this way with a specific purpose," says the young entrepreneur.
Of the challenges, competition is the biggest one. And the reason is simple: rivals always want to imitate. "When you are innovative, everyone wants to be like you. Competitors try to copy you," says Blaer. But she also sees the bright sight of it. "This gives us an impetus to continue to differentiate ourselves from the crowd through an ongoing innovation process," adds the business development manager. And this seems to be the right course of action as the competition in the field on the local market is strong, mature and fierce.
Blaer says that at the moment GQS Bathrooms / German Quality Solution has one of the widest range of products, with over 30 brands for which the company is direct distributor, and over 14,000 items across all price ranges: economy, mainstream, premium and exclusive design. "It is almost impossible for a customer – be he or she designer, architect or final consumer – not to find a product that meets his or her expectations about design, form, technical specifications and budget," says Blaer.
At the moment the company has a market share of about 4 percent, according to the entrepreneur, who has bold plans for the future. "We have to implement new products, services and procedures, and an online promotion campaign. Besides that, we intend to extend our business on neighboring markets," concludes the businesswoman.
Company profile – GQS Bathrooms /German Quality Solution
2009 estimated turnover:EUR 915,000
2010 estimated turnover:EUR 1,500,000
Number of employees: 7
Initial investment: EUR 150,000
Total investment:  EUR 430,000