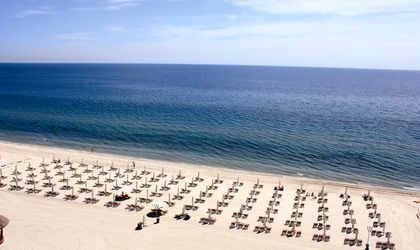 As the recession exerts pressure on expenses, tourists in Romania have had to lower their aspirations. This has meant that they have either decided to spend their holiday in Romania rather than go abroad, or chosen cheaper alternatives and destinations. The May 1 mini-break opened the summer season and signs are encouraging as pundits in the field were not expecting that many people to travel.
Otilia Haraga
Some 80,000 tourists spent the May 1 break in Romania, kicking off the summer season. This influx exceeded the expectations of ANAT, Traian Badulescu, general manager of ANAT Media, tells Business Review. A detailed analysis shows that most of these holidaymakers went to the Romanian seaside, double the ANAT forecast.
"This year we estimated 15,000 tourists would come to the seaside and there were 30,000. This means that many decided to go at the last minute and, let us not forget the good weather, which also played an important part. What can be seen is that Romanians have an appetite for tourism," says Badulescu.
Of these 30,000 seaside goers, the vast majority – 20,000 of them – chose the Mamaia resort.
Some 6,000 went to southern seaside resorts such as Neptun, Jupiter and Eforie Nord while
6,000 went to Vama Veche and Costinesti.
Certain operators had sold out their packages for May 1, especially hotels in Mamaia, from mid-April. "The Romanian seaside is performing well. People have started to learn to book early which ensures they get the package at a discount," says Badulescu.
"This year, there was a 40 percent hike in the number of tourists who went on the May 1 break through Eximtur, and the agency's cash-ins also increased by 20 percent," says Noemi Hagan of Eximtur agency.
Other destinations that hosted tourists on their May 1 break were mountains and rural areas.
Valea Prahovei had an occupancy degree of approximately 50 percent, the equivalent of 10,000 tourists, while rural hostels were chosen by more than 40,000 tourists who went for regions such as Bran Moieciu, Marginimea Sibiului, northern Oltenia, Maramures, Bucovina, Neamt and Vrancea.
"Compared to the Easter holidays, this time there were many more young tourists, who chose active relaxation such as biking," said ANAT. The number one foreign destination was the Bulgarian seaside, to which 10,000 Romanians headed. This zone was the most accessible both in terms of distance and prices. Albena, Golden Sands and Balcik were the most popular resorts. And thousands of tourists opted for Northern Greece, Cyprus or Turkey, or purchased city-break packages to visit other European cities, says Badulescu.
The recession has convinced Romanian tourists to drop their plans to spend their holiday abroad in favor of domestic destinations. "This is true especially in the case of short, out-of-season breaks," says Hagan.
The agency posted this year a hike of 98 percent for Romanian destinations (other than the seaside) from January 1- April 30, on the previous year.
So those who choose to tighten their belts and take a more frugal holiday will go to more accessible places such as Bulgaria, continental Greece, Tunisia, Egypt, Croatia and European capitals where the package is cheaper because of low-cost flights.
"Last year, a 20-25 percent decline in the number of tourists who chose to spend their holidays abroad was observed, while the number of people who preferred domestic destinations was also 10-15 lower," said Badulescu, calling this "a natural thing in times of crisis." Three examples of destinations that were not as lucrative are Tunisia, Turkey and Cyprus.
"The market of charter flights (which is expected to recover this year) was significantly affected by the crisis, having posted drops of 20-50 percent for some destinations. One of them was Tunisia, which saw a 40 percent decrease. Paradoxically, Tunisia is cheaper than other destinations although it is more remote," says Badulescu. Turkey also suffered a 20 percent decrease and Cyprus 20-30 percent.
However, Romanians still go abroad more than foreigners come here. A study by the National Institute of Statistics found that in the first quarter of 2010, 1.42 million foreign tourists came to Romania. The number is 3.9 percent lower than during the same period last year.
Most foreign tourists come from European countries, especially neighboring nations like Hungary and Bulgaria, but there are also Italian, German and Austrian tourists. By contrast, the number of Romanian tourists who go abroad is roughly double, at 2.4 million.
What sold well last year were exotic luxury destinations and cruises. Badulescu attributes this to two reasons. Firstly, those who have money still spend lavishly even in times of crisis and secondly, there were substantial discounts from cruise liners, as much as 70 percent and averaging out at 20-30 percent.
"The paradox of the crisis is that many went for an upgrade from premium to luxury packages and some 'dared' to purchase luxury packages – 25 percent more in
2009 compared to 2008," said Badulescu.
Among the most popular destinations in Romania this year will
be the Black Sea coast with resorts such as Mamaia, Neptun, Jupiter and Eforie. Tourists will also go to spa resorts.
Top foreign destinations will most likely be Bulgaria, Greece, Turkey, Croatia/Montenegro, Spain, Tunisia and Egypt, says Hagan.