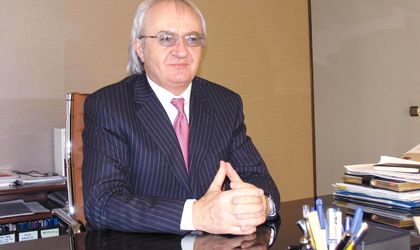 With a target to reach a EUR 15 million business volume this year, Paul Tudor, president of metallurgical firm Besta Group, intends to continue stand-by projects and to better capitalize his company in order to restart his enterprise based on some new and fresh business principles.
Anda Dragan
Paul Tudor's entrance to the entrepreneurial world coincided with the birth of the free market in Romania, in 1991. It was a time when everything was new: just a handful of players on an underdeveloped market and a business environment that was starting to take shape. Asked how he made his first steps in business, Tudor, president of Besta Group, responds promptly: "Quite simply. I set up a business in 1991 and wrote the constitutive document myself. I still have in my office the typewriter I used to write the documentation necessary to establish Best SRL. I like to hang onto some keepsakes," says Tudor, looking back.
The company was specialized in metallurgy and his idea to become a player in this field came one year earlier, in 1990. "I set up a business with two employees but after a few months I gave up the share package and I established Best firm with me as sole shareholder," says Tudor. Best SRL later became Besta Group. He added that he made his exit from his first business because he wanted to be completely involved in his own enterprise and to have the independence to decide its strategy.
The entrepreneur says that one of the main factors that led him to focus his entrepreneurial efforts on the domain was his experience in metallurgy: he was involved in international trade with metallurgical products and so had some connections that helped him to develop a business. Besta Group started in the ferroalloys and non-ferrous metals field and has developed its activity, currently distributing a various range of products such as: ferroalloys, non-ferrous metals, pig iron and non-ferrous alloys for the metallurgical industry, machine building sector and for other industrial fields in Romania. Besta Group also distributes steel products, profiles, plates and other metallurgical products for consumers working in the industry field and in civil and industrial construction in the country. "We have enlarged the company's field of activity in the last few years, with the real estate sector being one of the investments," adds Tudor.
The toughest period for his business came with the current crisis, when many customers faced huge financial difficulties. "2009 was horrible. I thought it would never end. Sales dropped by 60 to 70 percent on 2008 while incomes decreased by even more than that. This came about because many companies initiated insolvency procedures while others simply didn't pay us anymore," says Tudor. He adds that the number of cases that went to trial overtook the commercial contracts last year. "We had days when we had four to five court sessions in order to get the money that was owing to us," says the entrepreneur.
The hard business world has taught Tudor some tough lessons. "I have made some wrong decisions. I believed too much in people; I helped many of them and, instead of gratitude, I took some knocks. But I can be pleased that Besta school formed characters, professionals and entrepreneurs that are running their own businesses now," says Tudor. If he started another company he wouldn't give Besta shares to his employees, would be more careful with commercial operations and the application of company procedures and investments and would choose his customers more carefully. "Of course, I would be more cautious in selecting the firm's employees and strictly monitor its expenses," adds the president of Besta Group.
One of the most significant challenges for Tudor's company is trading metals through the London Metal Exchange. "The price changes many times a day. It is a fast-moving business that can't be compared with any other metallurgical products market. At the end of the day, anyone can sell structural steel," says the entrepreneur.
As for the competition, Tudor thinks there is a very crowded market because a lot of metallurgical products in circulation at the moment don't meet the quality requirements, have dubious origins and are sold at dumping prices. He gives structural steel as an example, saying that its merchandising should be carried out by specialized companies that can assure builders that it meets international standards in the field. "Instead structural steel is sold on the corner, without any quality certificates. Together with the Romanian Association of Metal Distributors (ARDIMET) we tried to impose a law about licensing the firms that distribute steel for the construction industry. Unfortunately this was to no avail," adds Tudor.
According to him, it is very difficult to estimate his company's market share because the steel market is a very volatile one. "I am eagerly waiting for when things to settle a little, prices stabilize and the world's economy gets back to normal," says the entrepreneur.
Although Besta's sales have dropped by almost 70 percent and the firm has had to make some lay-offs, Tudor says his company has managed to stay above the waterline and keep its direction. As for the future, the entrepreneur adds that the firm means to get through 2010 and try to continue some stand-by projects. "I intend to complete the transaction of Poiana Azuga Touristic Resort (Complexul Turistic Poiana Azuga), to capitalize the company and start over with new business principles," concludes Tudor.