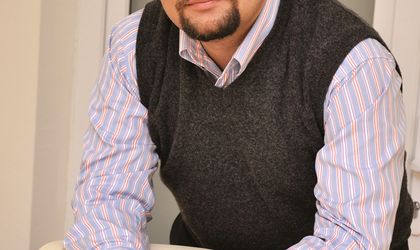 With no customers but a lot of courage, CLAUDIU POPA started his own business six years ago, and has since had the opportunity to work both with small companies and multinationals. His main target is to transform Interactivision in a conglomerate of projects which might be a target for investors.
By Anda Dragan
With a nonexistent customer portfolio but plenty of guts, Claudiu Popa took his first step in the business world in 2004. He was determined to set up his own company, despite not having any detailed plans for the future or financial forecasts. "I wanted to start my own enterprise to put into practice what I had learned during the several years I spent as an employee of a web design company. My first goal was to do the web design for a specific project. But in the meantime, this objective changed so I transformed the web design company into a strategy and consultancy firm specialized in web design, branding strategy and online consultancy services," says Popa, CEO and creative director at Interactivision.
At the very beginning, he wanted to work without a staff and implement his ideas in specific projects. "I didn't have any growth plan for the company; I didn't make any Excel documents with financial predictions. I was very pleased to learn from my projects. That was my first objective," remembers Popa. He adds that he doesn't regret this strategy, even now, because he has learned a lot from interaction with his customers and gained extensive experience from starting a business from scratch. "An entrepreneur who runs a start-up needs to be some kind of a one-man-show. He simply can't totally outsource part of his business," says the young entrepreneur.
Popa may have started out with no customers and no sales and marketing expertise, but he was highly qualified as a web designer. "It was an ongoing process of learning. It was very hard to attract customers and when I did, I worked on projects that were inefficient for me. I was working much more than I should have been because I didn't know how to negotiate. I sold my professional services very cheap," says Popa.
Without doubt, the most testing time was his first operational year. He had rent and taxes to pay and customers were taking a long time to pay up. "The first year was a very difficult one for me. Then things changed a little: we had a positive cash flow and the business began to work," remembers the web designer. He worked on both small and very large assignments, both for small businesses and multinational top telecom companies and a car manufacturer. "My experience was equally divided between the whole range of projects I worked on," says Popa.
Although marketing drives sales, Interactivision has never gone in for intensive marketing activities. The business grew in a healthy and sustainable way, supported by word-of-mouth. "Practically 90 percent of all my projects have come through recommendation," says Popa.
According to the businessman, in Romania there is a tendency to pay more attention to a larger project than to a smaller one. "I didn't follow this path. I put the same care into a small project as a large one. It's a question of honor. I truly believe that an honest business generates honest revenues," says Popa.
As for the competition, the CEO thinks that the market is crowded, with three levels of the web design business model: freelancers, medium-sized companies and large ones.
"Financially speaking, freelancers are dragging down the market because they charge low prices for their services and often don't do a good job. Medium companies create websites that are worth from a few hundred euros to EUR 1,500. The third level is large companies, which have a different approach to projects," says Popa. In his opinion, large web design firms make more money than is justified and have high overheads.
The young entrepreneur believes there are two big challenges in this business: to have good technical knowledge and skills and to have a solid branding background in order to be able to understand the customer's business.
"Web designers should know that a website is a marketing tool rather than something connected to the IT department." Although the current downturn has not affected his business at all, Popa says that he has noticed a significant change on the market: "Since the crisis started you don't know which projects are for the long term and which ones are short-term web campaigns or sites."
But there is some good news too. The CEO says that one positive thing was that in 2009 many customers invested in long-term projects with a return on investment in over one or two years. As for his company, circumstantial growth could pose a problem. "Large firms may see their incomes fluctuate because of the current crisis. But reduced budgets have been counterbalanced by some long-term investments by other companies," says Popa.
As for the future, the entrepreneur intends to invest in internal projects and to create and test which ones are suitable for development in the future.
Although investors have come sniffing around Interactivision, Popa has refused to sell his business, as he himself has big plans for it. The CEO intends to transform the firm completely in the next three years. "I want Interactivision to become a conglomerate of projects in the next three years. The idea is to sell projects, not the company itself," he concludes.
anda.dragan@business-review.ro